4 Minute Read:
One of the most frustrating cosmetic imperfections that a person can deal with are issues regarding the ears. Some people are born with ears that are proportionally too big for their head or ears that stick out too far from the sides of their head.
Not only can you feel self-conscious and embarrassed about the shape and size of your ears, but other people can add to your ear problems by teasing and making fun of you. This is especially true with children and young adults, because, if there's one thing we know that young people are good at, it's teasing others.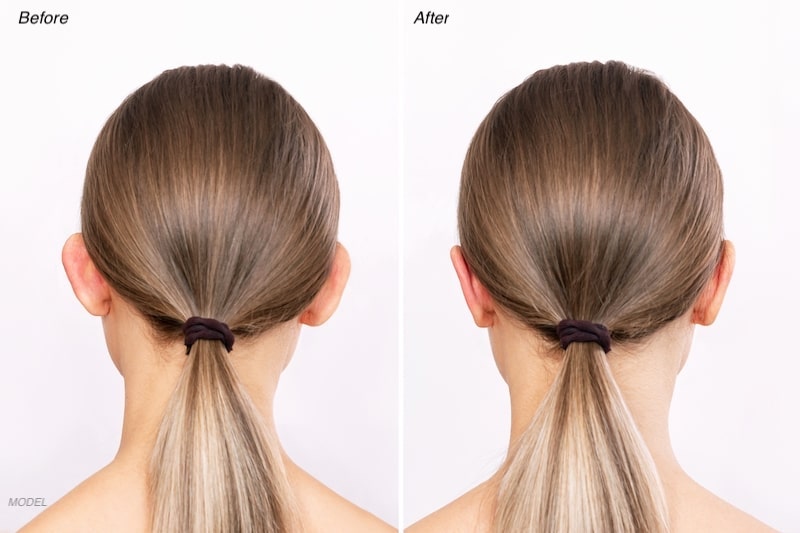 (Caption when posted: Before and after)
The good news is that otoplasty is a cosmetic procedure that can help men, women, children, and teens who struggle with cosmetic ear issues.
Otoplasty or ear pinning surgery can allow you or your child to achieve ears that are proportionate to the head and add to the aesthetic balance of the face. Dr. Adrian Lo is the plastic surgeon to help give you the results you've been looking for.
What Is Otoplasty, and How Is It Performed?
Otoplasty (or corrective ear surgery) is a cosmetic surgery in which the shape and size of the ears are corrected to give patients a more natural and balanced facial aesthetic. While many people think that ear pinning only pulls the ears tighter to the side of the face, that is only one aspect of cosmetic ear surgery. With ear pinning surgery, the cartilage curves and shapes are restored to a normal appearance. The reality is that otoplasty helps patients feel more confident and comfortable with the look of their ears.
This procedure can be performed under general anesthesia, twilight sedation, or local anesthesia and usually takes about one hour to complete.
After the anesthesia is administered, Dr. Lo will make an incision behind your ear. Once the incision is made, Dr. Lo will reshape and reposition the ear cartilage to give you a more natural appearance. Permanent sutures are used to hold the ears back to a normal position on the side of the head.
You will wear a light head dressing for 48 hours and then the head dressing is removed and you will see the results of your ear surgery!
Why You Should Think About Otoplasty for Your Child and Teenager
It doesn't take watching a movie about high schoolers to know that teenagers can bully each other, often pointing out cosmetic flaws that others may struggle with.
And the reality is that large or protruding ears are definitely perfect targets for bullies. Bullying, teasing, and even good-natured joking from friends can all negatively impact a young person's confidence and self-esteem.
To help keep your child from experiencing this, you may want to consider having your child or teenager undergo cosmetic ear surgery as early as possible so that they do not offer that target to other kids and teens.
Otoplasty is one of the few procedures that can be performed on children as young as six years of age, and when you look at the stats and see how many patients undergo this surgery (over 50,000 in 2020), then you can understand just how important the appearance of the ears are to people.
Another reason to consider having your teenager have otoplasty is to allow him or her the chance to look the way they want during those transformative years of their life. Having normal looking ears allows your teenager to have the hairstyle of their choice and avoid hiding their ears with long hair and avoid putting their hair up. You don't want them thinking back on their first date, prom, first job interview, or graduation and wishing their ears didn't bother them so much.
By undergoing otoplasty when your children are in their teenage years, you can help them feel better about their appearance when they enter college and the workforce so that they can put their best face forward.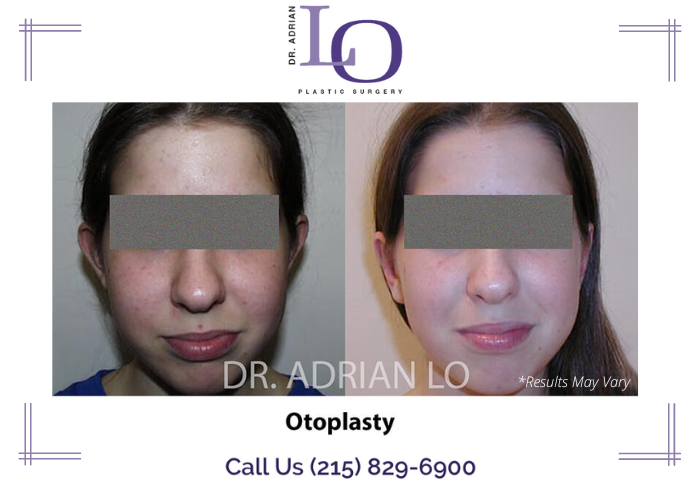 See more transformations by visiting our otoplasty before and after photo gallery.
Why Should You Choose Dr. Lo for Your Child's Otoplasty?
Dr. Lo is a board certified plastic surgeon and was named "Top Doc" by Philadelphia Magazine. Additionally, he has years of knowledge and experience in giving his patients the facial aesthetic they desire so that they can feel more confident and live better, happier lives.
Just take a look at his results in our photo gallery and see for yourself the transformative works that Dr. Lo performs.
Want to Learn More About Cosmetic Ear Surgery in Philadelphia and New Jersey?
If you have questions about otoplasty or any of the other procedures we offer, please call us at (215) 829-6900 or fill out our online form here. We look forward to helping you achieve the look and feel you've always wanted.