Upper Eyelid Surgery
IN PHILADELPHIA AND NEW JERSEY
Loose skin around the eyes can make one look tired, sad, or older than their age. The good news is that eyelid lift surgery (blepharoplasty) is simple and safe with a fast recovery.
Request a consultation
Photo Gallery
What is an
Upper Eyelid Lift?
An upper eyelid lift removes the loose skin from the upper lids to dramatically restore a more youthful appearance. Your eyes will be more "open," and you will look refreshed and less tired.
What are the benefits of an
Upper Eyelid Lift?
Removes loose, hanging skin
Removes excess fat if necessary
Makes you look less tired and more awake
Makes you look younger
Makes putting on makeup easier
Enhances confidence in your appearance
Am I a Good Candidate for
Upper Eyelid Surgery?
You may be a candidate for upper blepharoplasty if you experience at least one of the following:
Drooping and excess skin on the upper eyelid
Heavy feeling on the upper eyelid
A "hooded" look because of the extra skin
Feel that you could look better with the extra skin and fat removed
What Does an Upper Eyelid Lift Involve?
---
YOUR UPPER BLEPHAROPLASTY CONSULTATION
A consultation with Dr. Lo is required before your eyelid lift surgery. During this consultation, Dr. Lo will discuss your goals for the procedure, evaluate your situation, and offer recommendations.
Many patients benefit from combining a lower eyelid lift or brow lift surgery with their upper eyelid lift to enhance their overall look in the eye area.
HOW IS UPPER EYELID SURGERY DONE?
Upper eyelid surgery involves making an incision for along the natural crease in the upper lid, and an ellipse of skin is removed.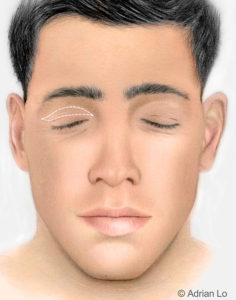 HOW LONG DOES UPPER EYELID SURGERY TAKE?
If you are a good candidate, the surgery may be performed painlessly under local anesthesia in the office. Alternatively, the procedure may also be performed at a surgery center under twilight sedation. The procedure takes about 30 to 45 minutes, and then you are able to go home to rest.
WHAT TYPE OF ANESTHESIA OPTIONS DO I HAVE FOR MY UPPER EYELID LIFT?
You have a choice of anesthesia for your surgery.
Local anesthesia: numbs only the area being treated, and you are awake for the procedure
Twilight sedation (the most popular option): uses local anesthesia to numb the area being treated while intravenous medications are used to make you more comfortable
General anesthesia: puts you completely to sleep for the duration of the procedure
WHAT SHOULD I EXPECT FOR RECOVERY AFTER UPPER EYELID SURGERY?
When you go home after the procedure, you should rest and elevate your head. You will have small Steri-Strips™ (thin medical tape) on your incisions. Using ice packs on the upper eyelids will minimize the swelling and bruising. Dr. Lo also has a special protocol to further minimize your swelling and bruising so that you may return to normal activities quickly.
You may be able to drive in three to five days but will need to avoid heavy lifting and exertion for two weeks. You may resume exercise in 10 to 14 days.
WHAT SHOULD I EXPECT WITH UPPER EYELID SURGERY?
WHEN WILL I SEE THE RESULTS OF MY
UPPER BLEPHAROPLASTY?
You will immediately notice that the loose skin has been removed but swelling and bruising during the first few weeks may make it difficult to see the final results. After one month, you should begin to see the early results of your surgery, but it may take up to six months or more to see your final result due to residual swelling.
You will have regular follow-up appointments with Dr. Lo for up to one year after the surgery so he can monitor your healing.
IS THERE ANY FAT REMOVED DURING THE
UPPER EYELID LIFT?
Skin removal alone will usually give you the result you desire. However, you may have excess fat pads that Dr. Lo will remove during your surgery.
Will I have scars after my
UPPER EYELID Surgery?
The incision and resulting scar hides naturally in the upper crease of your eyelid and usually heals such that you can barely see it.
HOW LONG WILL MY
EYELID TUCK RESULTS LAST?
Typically, after Dr. Lo's technique, you should not need an upper eyelid lift done again.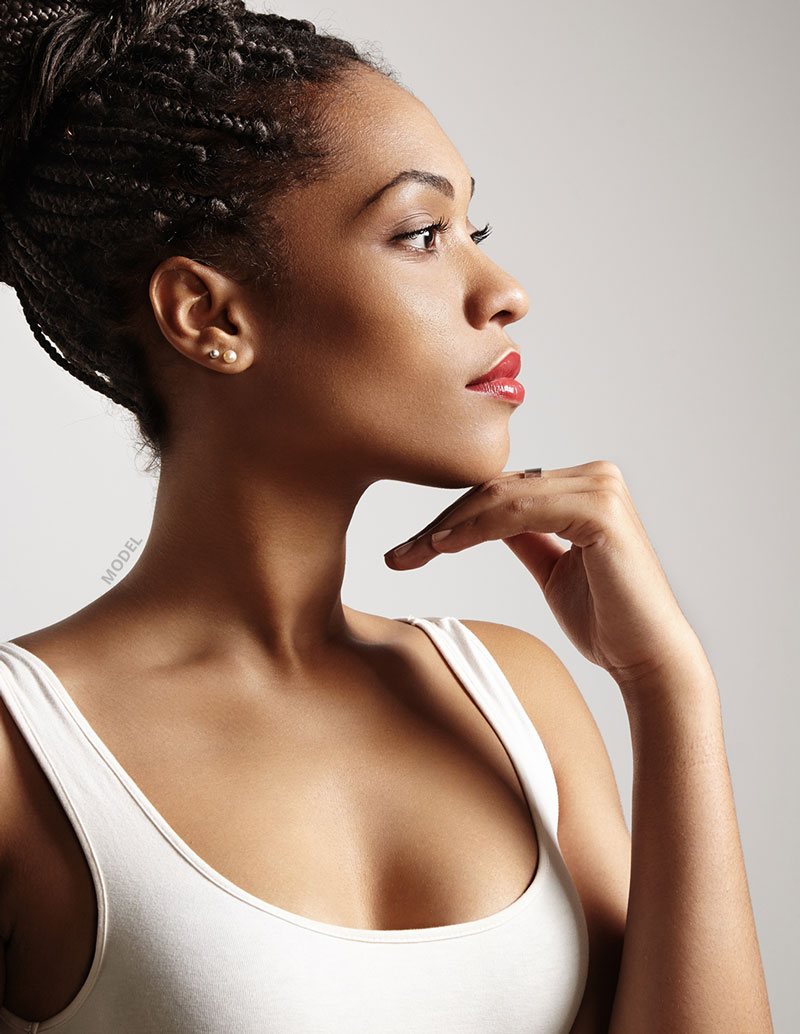 WHAT PROCEDURES ARE USUALLY COMBINED WITH UPPER EYELID SURGERY?
---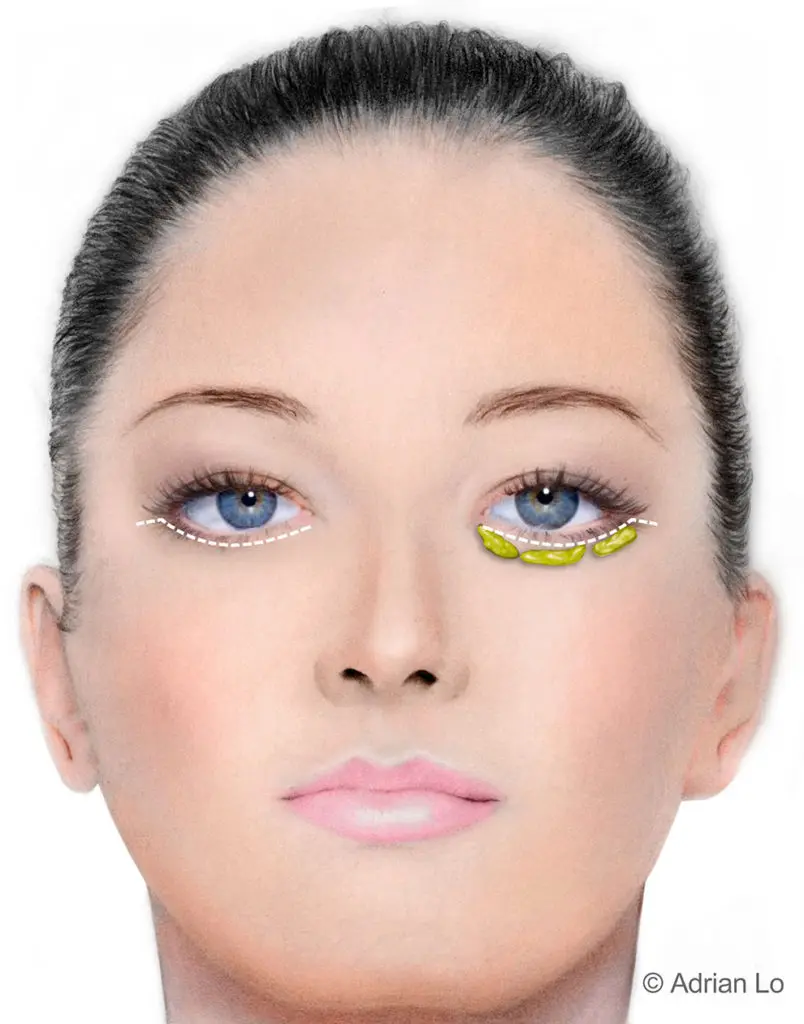 DO I NEED A BROW LIFT WITH MY UPPER EYELID TUCK?
During your consultation, Dr. Lo will evaluate your situation and determine if you would benefit from a brow lift with your upper eyelid tuck. A brow lift can correct drooping eyebrows and "hooding" over the eyes by repositioning the brows to a natural, lifted position. Dr. Lo's brow lift techniques ensure that you will have a natural look and appear more alert, rested, and youthful without looking over-pulled.
DO I NEED MY LOWER LIDS DONE AS WELL?
If you have fat pads in your lower eyelid area with loose skin, Dr. Lo may recommend lower eyelid lift surgery with your upper eyelid tuck. Many patients choose to have both the upper and lower lid surgeries performed at the same time. By contouring and removing the fat pads and fat protrusions, your lower eyelid area will be smoother. You will look refreshed and less tired.
WHAT PROCEDURES CAN BE COMBINED WITH UPPER EYELID SURGERY?
Upper eyelid surgery can be performed alone, or it can be performed alongside additional face or body contouring procedures to enhance the quality of your results. In addition to the most common lower eyelid surgery and brow lift surgery combinations, other procedures frequently performed with upper eyelid surgery include:
Other FAQs About Upper Blepharoplasty
The eyelid surgery is done very naturally, and Dr. Lo will not change the shape of your eyes. By removing the loose skin, you will look refreshed and less tired.

Upper eyelid surgery is typically tolerated well and not painful. Most of Dr. Lo's patients take extra strength TYLENOL® afterward or take no pain medication at all. Dr. Lo will write you a prescription for a stronger pain medication, if needed.

The stitches used will dissolve by themselves in one to two weeks.

You should plan to take seven to 10 days off work to allow the bruising and swelling to resolve. You may apply makeup in five to seven days and wear sunglasses, if needed to hide any signs of surgery.

An upper eyelid lift is still surgery, but the risks are minor and rare. There are the usual risks of bleeding, infection, healing problems, and dry eyes. Dr. Lo will discuss with you the possible risks in your situation.

If you choose twilight sedation or general anesthesia, your upper eyelid lift surgery will be performed at the Pennsylvania Hospital Tuttleman Surgery Center, Pennsylvania Hospital, or an accredited surgery center in the region. It is an outpatient surgery, so you are able to go home the same day.

If you choose to have your upper eyelid surgery performed under local anesthesia, the surgery can be done in the office. Dr. Lo will discuss with you what he feels is best for your situation.

The cost of an upper eyelid lift ranges between $5,150 to $8,450. This price includes Dr. Lo's surgical rate and the hospital and anesthesia fees.
The eyelid lift is a highly specialized surgical procedure, and the overall cost of your operation will vary depending on your specific needs.

Choosing your plastic surgeon is one of the most important decisions you can make during your plastic surgery journey. Plastic surgeons are certified by the American Board of Plastic Surgery (ABPS). This certification ensures that the surgeon has met rigorous academic, professional, and ethical standards and is, therefore, highly qualified to perform your surgery.

Before choosing a surgeon for your upper eyelid lift surgery, you should do your research and ask questions to ensure that you feel comfortable with the decision. Ask to see a surgeon's before and after images to make sure you are happy with the results you see.

Dr. Adrian Lo is a top board-certified plastic surgeon in Philadelphia. He is a member of the Aesthetic Society (ASAPS) and the American Society of Plastic Surgeons (ASPS). He is also a Fellow of the American College of Surgeons (FACS).

Visit our plastic surgery photo gallery to see Upper Eyelid Surgery Before and After pictures of Dr. Lo's patients.
WANT TO FIND OUT MORE
ABOUT UPPER EYELID SURGERY IN PHILADELPHIA?
If you are interested in learning more about upper eyelid surgery, contact Dr. Lo by calling (215) 829-6900 or by filling out our online contact form. Dr. Lo offers upper eyelid surgery for patients in the tri-state area of Pennsylvania, New Jersey, and Delaware, including the cities of Philadelphia, Marlton, Cherry Hill, and Mount Laurel.