Scarless Breast Augmentation
IN PHILADELPHIA AND NEW JERSEY
Many women develop dissatisfaction with their naturally small breasts. Women also experience deflation after pregnancy or weight loss. Breast augmentation, or breast enhancement surgery, enlarges a woman's breasts with breast implants.
Request a consultation
Photo Gallery
Women choose breast implant surgery to achieve their desire of a fuller bust and a more proportionate body frame. Breast augmentation with implants increases the size and shape of the breasts while maintaining a natural look and feel. Augmented breasts should be soft, move naturally, and have an incision or scar that is well-hidden.
Dr. Lo's objective is to meet your goals by performing your surgery safely and providing you with a quick recovery time. In Dr. Lo's view, a successful breast implant surgery is one that results in natural-looking breasts that keep them guessing!
Dr. Lo performs breast augmentation for women in Philadelphia, Marlton, and Cherry Hill in New Jersey, Delaware, and the surrounding areas.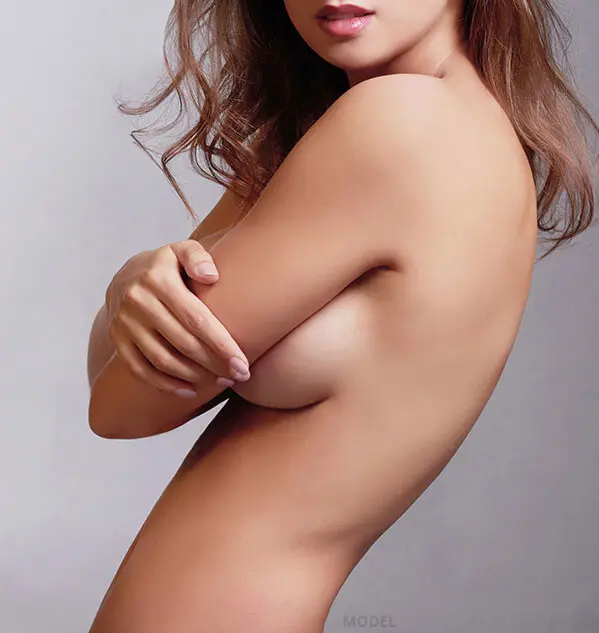 Am I a Candidate for
Breast Augmentation?
You may be a candidate for breast implant surgery if you feel any of the scenarios listed below apply to you:
You feel that your breasts are too small and wish to have larger breasts
Your current breast size is not proportionate to the rest of your body
Your clothes do not fit properly, or you cannot wear the styles that you wish
Your breasts have become smaller or have lost their volume or shape after having children
Your breasts have become smaller after weight loss, dieting, or exercise
Your breasts are uneven or asymmetric (breast implants can often significantly improve this condition by using different-sized implants during your surgery)
What Is Discussed During My
Breast Augmentation Consultation?
Your objectives for breast augmentation will be discussed with Dr. Lo during your consultation. During this meeting, Dr. Lo and his team will:
Listen to your goals and wishes
Examine your breasts and take measurements and photos of your breasts
Determine your implant size using 3D imaging and bra sizers
Show you breast augmentation before and after photos of his previous patients
Answer any questions you may have
Review your medical history and general health
Inform you on how to prepare for your surgery
Determine the need for pre-op bloodwork and mammogram, if necessary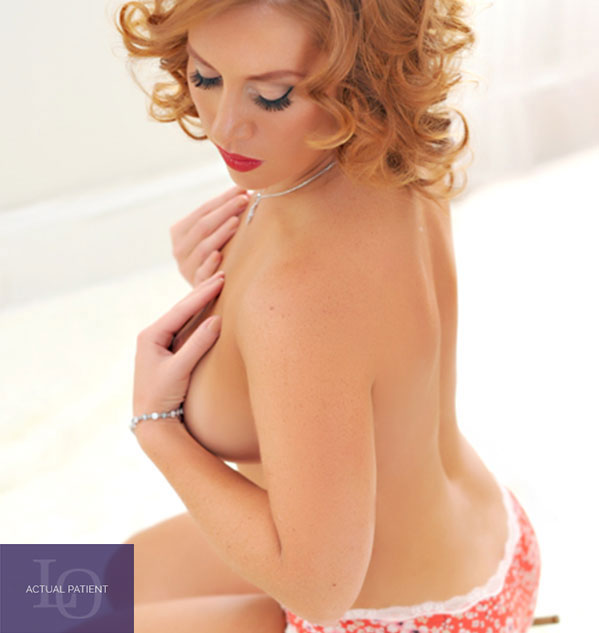 How Can I Personalize My Breast Augmentation?
Dr. Lo is happy to offer all options for incision location (transaxillary, periareolar, or inframammary), breast implant type (saline or silicone), breast implant size, and breast implant placement (behind or in front of the muscle). With all these options available, your surgery can be personalized to give you the best result for your breast and body shape.
Dr. Lo's Fast Facts*
Advantage: Hidden scar in the armpit with no scars on the breast
Implant Options: Silicone/Gummy Bear or Saline Implants
Procedure: Outpatient. Home the same day.
Anesthesia: General anesthesia
Length of Procedure: 45 min
Level of Post-Op Pain: Special protocol to keep pain to a minimum
Time Off: 3-5 days
Back to the Gym: Light exercises in 2 weeks
Incision: Scars are almost "invisible"
Pricing: $8,000- $11,000** Financing Available
*General guidelines, may vary based upon each patient's situation
**Disclaimer: includes surgeon fees, hospital and anesthesia fees, fees subject to change.
Where Will My
Breast Implant Incisions Be Made?
While Dr. Lo is skilled in all breast implant incision techniques, he is exceptionally experienced in the transaxillary approach. This is the preferred method for most of his patients, as there is not a scar on the breast. Depending on your individual situation and goals, one option may be more appropriate for you.
Armpit/Transaxillary Incision ('Scarless Breast' Implant Technique)
The armpit/transaxillary cut is used to insert either saline or silicone (cohesive gel) implants. This technique does not require any incision on the breasts because the incision is made deep in the armpit. The surgery is performed with an endoscope (a long, thin tube with a camera at the end), which allows Dr. Lo to create the breast pocket to place the implant properly.
The armpit incision is between an inch and an inch and a half long, heals well, and can barely be seen. The scar usually looks like a natural armpit crease, which allows women to wear clothing of all styles, including sleeveless dresses and tank tops.
Learn More About Transaxillary Endoscopic Breast Augmentation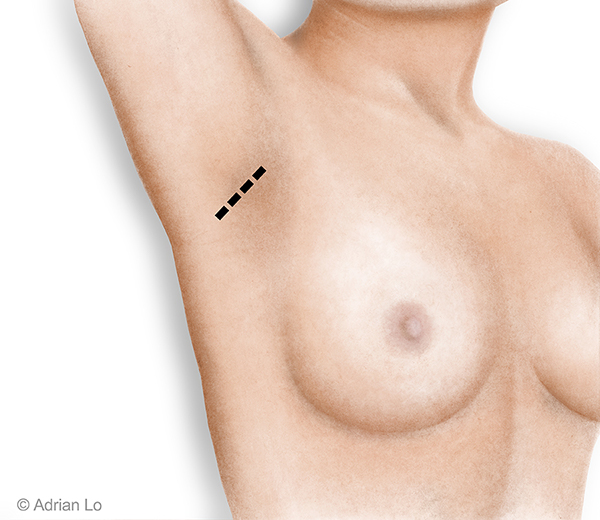 Almost Invisible Armpit incision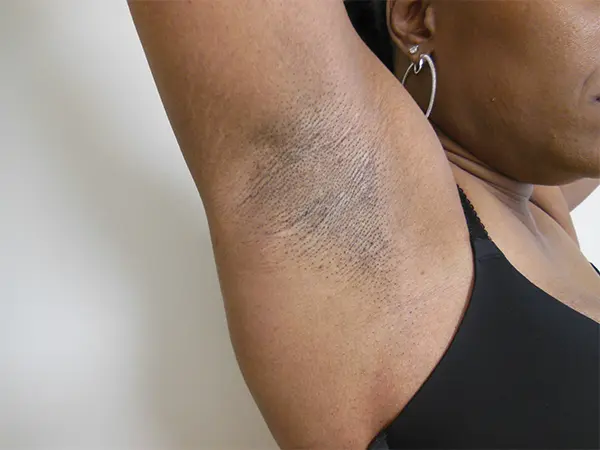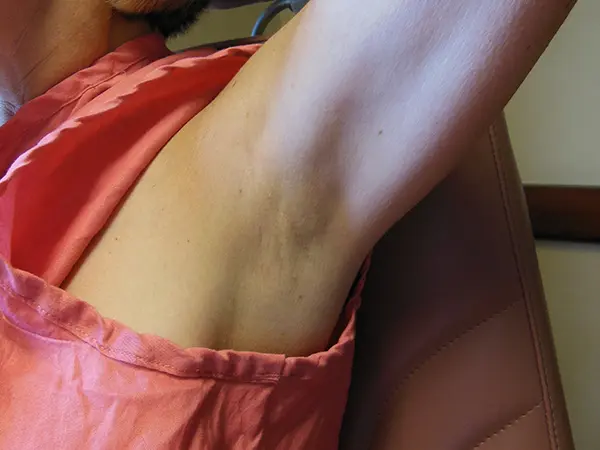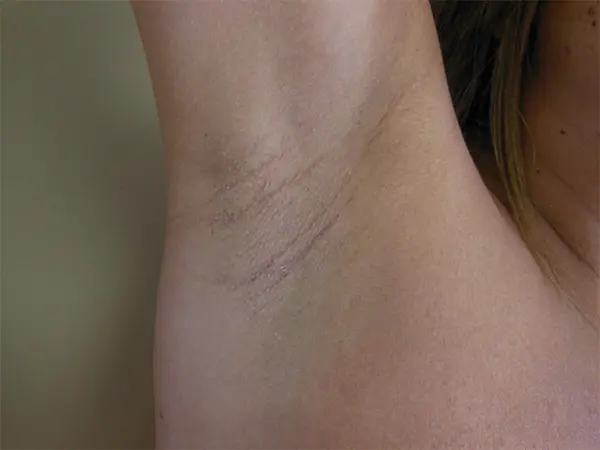 What Are My Breast Implant Options?
There are two options for implant type.
Saline implants have been safely used for years. These implants consist of an outer silicone shell filled with saline (salt water). The implants are filled after placement in the breast pocket, which helps to minimize the length of the incisions.
Silicone implants consist of an outer silicone shell filled with a soft silicone gel. These implants come pre-filled with a highly cohesive silicone and may require a slightly longer incision to insert the implant.
Learn More About Silicone Implants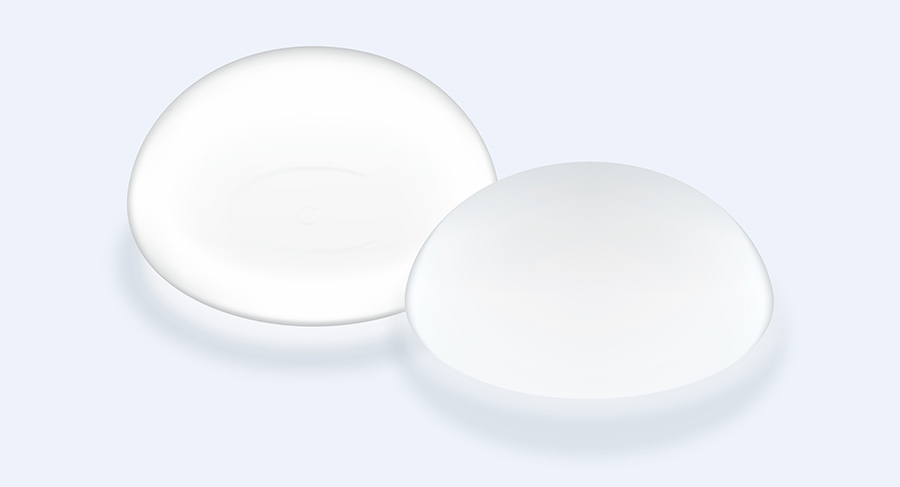 Dr. Lo uses a special funnel to insert the silicone implant for a 'no-touch' technique. This technique allows the silicone implant to be placed through a smaller incision without the implant touching the skin, thus decreasing the risk of infection.
The most popular style and shape for breast implant surgery is the smooth round implant. Smooth round breast implants give a full and perkier look that still appears natural. Implants also come in different projections such as low profile, moderate profile, moderate plus profile, and high profile. Dr. Lo will discuss all your options and help you decide the best implant for you.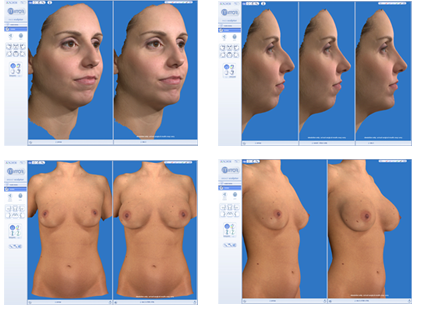 3D FACE, BREAST AND BODY IMAGING
Dr Lo's office offers state of the art 3 dimensional imaging so that you can see what you could look like after surgery. During your consultation, your picture will be taken and then using 3D imaging software, you will see what the exciting possibilities for your new look. We can simulate nose surgery or rhinoplasty, chin augmentation, face and neck lifts, breast augmentation, breast lift, tummy tucks and liposuction.
This 3D imaging system allows us to plan your surgery accurately and give you an idea of your new look.
Call 215.829.6900 for your immediate consultation today!
How Will I Determine My
Breast Implant Size?
Bra Sizing
During your consultation, bra sizing with silicone implant sizers or inserts will be used to determine the size and look that you like. During this process, various sizes of silicone inserts are placed behind your bra to show different looks and cup sizes.
3D Imaging
State-of-the-art three-dimensional imaging of the breasts is available to help you determine your desired breast size. The VECTRA® 3D Imaging system takes a series of multi-angle pictures of your breasts and simulates different breast implant volumes to show you what your results may look like.
Intra-operative Sizing
During surgery, Dr. Lo uses intra-operative sizing to determine the most appropriate implant size for each patient. A temporary breast implant sizer is placed, and different volumes are assessed before the permanent implants are inserted.
Your final breast size and shape will depend on the volume and shape of your natural breast plus the volume of the implant used. Both added together will give you your final cup size.
Should My Implants Be Placed Behind or in Front of the Muscle?
---
Implants can be placed behind (below) or in front (above) of the pectoralis muscle, which is the large muscle between the breast and the chest wall that attaches to the upper arm.
Submuscular Placement
Submuscular placement is when the implants are inserted behind the muscle. With submuscular placement, the final breast shape tends to be more natural since the upper part of the breast is more sloped and less rounded. This placement does not cause any damage or weakness to the muscle and has a lower risk of capsular contracture. Submuscular placement also makes mammograms easier to read.
A minor disadvantage of submuscular placement is that with exercise or contraction of the pectoralis muscle, the implants may move a little bit; however, this is temporary, and the implant will return to the normal position when the muscle relaxes. For most women, this minor movement of the implant is not an issue. There are many patients who exercise vigorously or are involved in triathlons who have their breast implants placed submuscularly and do well with the implants in this position.
Subglandular Placement
Subglandular placement is when the implants are placed in front of your muscle and behind your breast tissue (gland). This placement may offer a shorter and less painful recovery because there is no disturbance to the chest muscle. These implants do not move with muscle contraction, making it a popular choice for women who frequently exercise, such as bodybuilders or weight lifters.
Most of Dr. Lo's patients choose the submuscular placement for their saline or silicone implant. During your consultation, Dr. Lo will listen to your goals, assess your situation, and recommend the best location for your implant placement.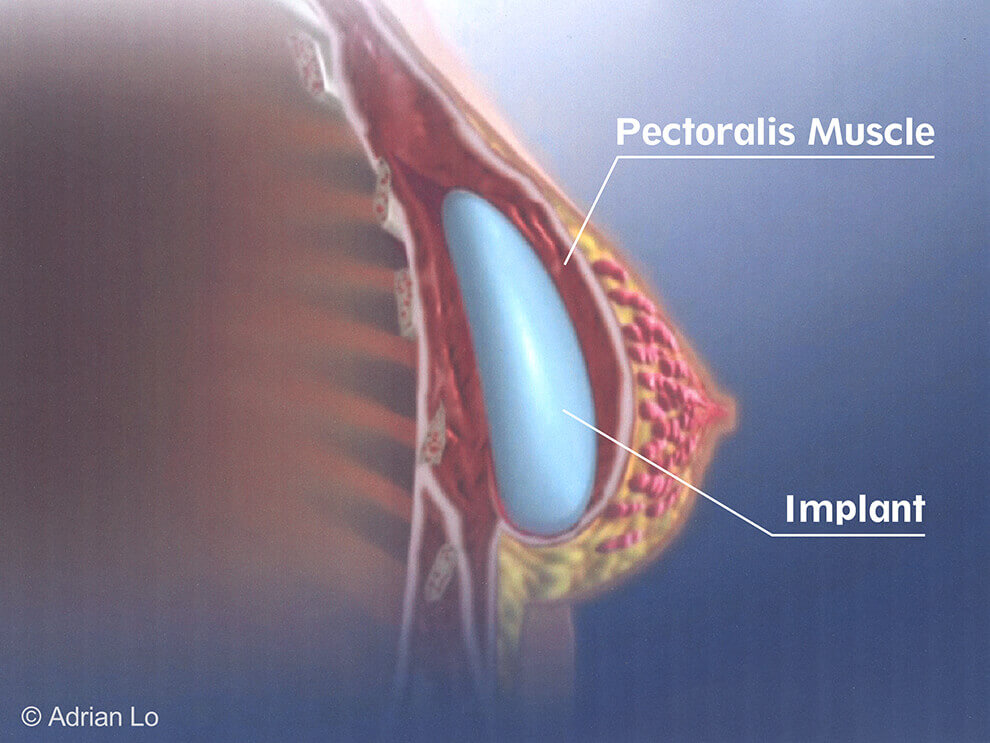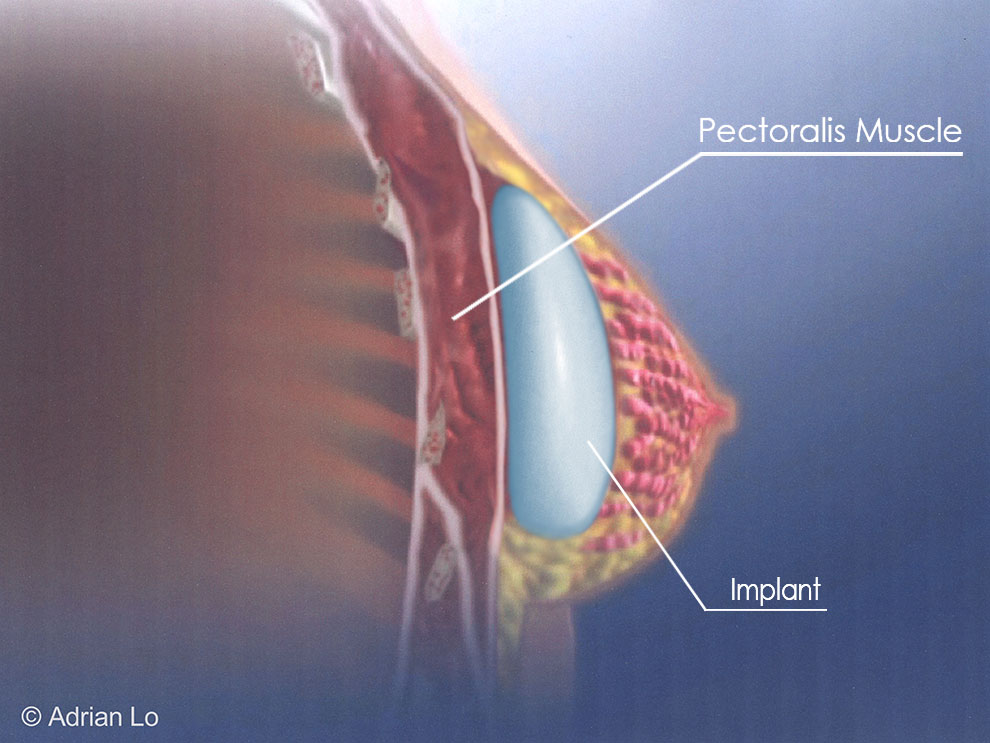 What Do I Need to Know About Breast Augmentation Surgery?
---
What Should I Expect on the Day of My Breast Augmentation?
Your breast augmentation is performed as an outpatient at the Pennsylvania Hospital Tuttleman Surgery Center or Pennsylvania Hospital. You will arrive approximately one hour before your surgery time to be checked in by our nursing team and be evaluated by our anesthesia team. Dr. Lo will then meet with you to answer any last-minute questions and review your preferred breast size and look. Using a marker, the incision line and the surgical plan is drawn on your breasts. Safety is always paramount with our surgical team, and you will be continuously monitored during the one-hour procedure. After the procedure, you will go to the recovery room until you are ready to go home.
Will Breast Augmentation Leave Scars?
Scars after breast augmentation are usually minimal and barely visible with all three types of incisions (armpit, crease, and periareolar/nipple). The armpit cut has the added advantage of avoiding any scars on your breast.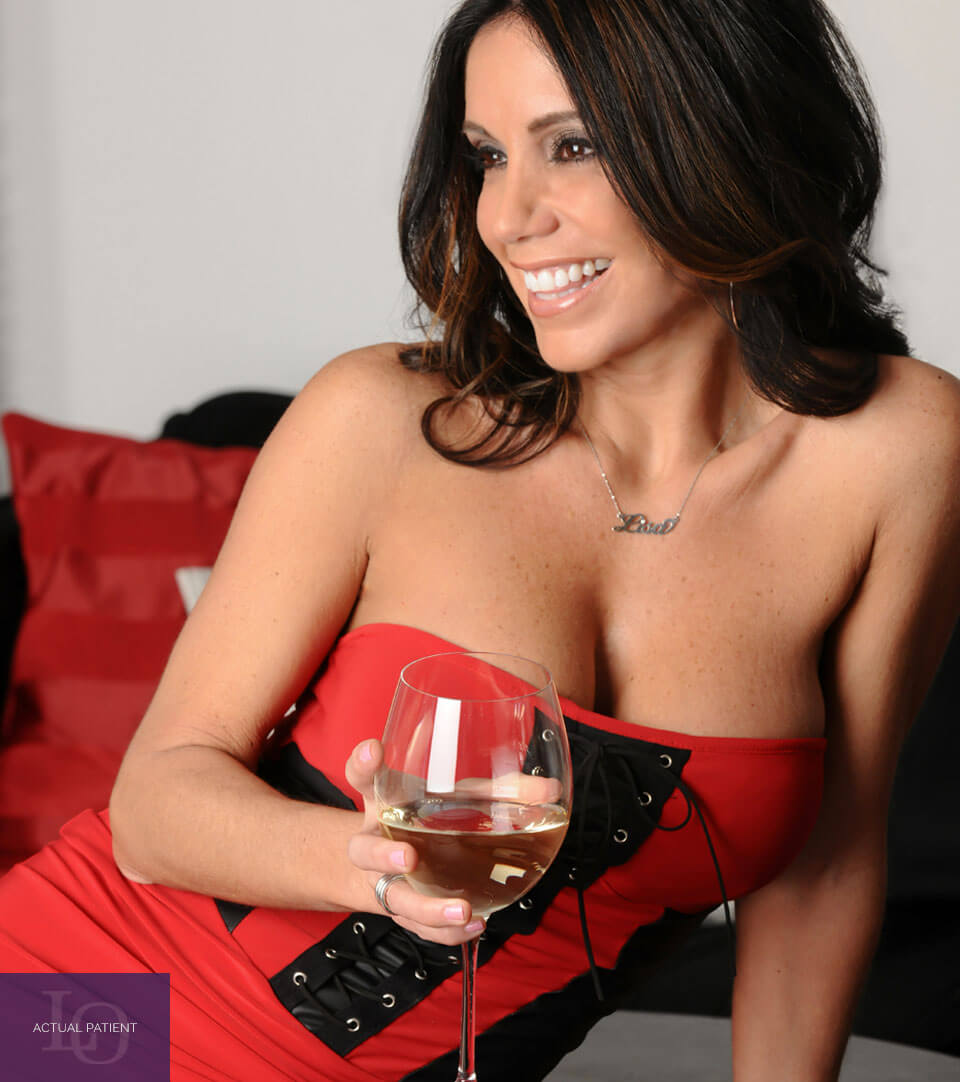 What Is My Recovery Like After Breast Augmentation?
After your breast augmentation, your breasts will be in a surgical bra with an ACE bandage wrapped around your chest. The following day, you will remove the bra and ACE™ bandage, check your breasts, shower, and wear a support bra that we will give to you.
You will be advised to sleep at a 45-degree angle using pillows or a recliner. This position will help minimize swelling and maximize comfort. You are encouraged to get up and walk around as often as possible. A light diet is recommended.
You will return to our office one week after your procedure so that Dr. Lo can examine your breasts and teach you how to perform breast implant massage exercises. Most patients return to work within three to 10 days. Light exercise may be started approximately 10 days, and vigorous exercise and heavy lifting may be resumed in three weeks, as tolerated. Sexual relations may resume in two weeks or whenever comfortable.
Is Breast Augmentation Painful?
Most women are curious about the level of pain they will experience after their breast augmentation. This is very subjective, as perception of pain can vary dramatically depending on the person. Many women describe their discomfort as "pressure," similar to a full or engorged feeling with breastfeeding. Most women discover that the discomfort experienced after their breast implant surgery is much less than anticipated.
Dr. Lo has developed a special protocol that is used during surgery to handle breast tissue gently, reduce post-operative pain, and minimize bruising, which allows you to have a fast recovery. Most women feel well enough to return to their normal activities within three to five days.
Dr. Lo's special breast augmentation pain medication protocol keeps women comfortable after surgery and avoids the use of strong pain medication such as opioids.
When Will I See My Breast Augmentation Results?
Initially, your breasts will appear swollen and the implants will sit slightly higher on your chest. The swelling usually resolves within five to 10 days. Over the following weeks, the breasts will soften and the implants will drop to a more natural position. Most women are pleased with the appearance of their breasts after one month, but it may take up to a year for the final breast shape to be achieved. Dr. Lo will recommend breast implant massage exercises to keep your breasts soft and natural looking.
The vast majority of women are very happy with their breast augmentation procedure. They feel more confident about their body proportions, love the look of their breasts, and are no longer self-conscious about their breasts.
When Can I Start Activities or Exercise After Breast Augmentation?
You are encouraged to be active after your surgery, but you need to give yourself enough time for your body to heal. For the first two weeks, light stretching and walking is allowed, but there should be no heavy lifting. At two weeks, you can begin more vigorous lower body exercises. Running or jogging with a proper supportive bra may be started at about three weeks. Upper body exercises should be avoided for four weeks.
After breast implant surgery, there is no long-term restriction on physical activity or sports. However, we do recommend avoiding excessive chest exercises such as bench press and pectoral flies.
How Much Does Breast Augmentation Cost in Philadelphia?
The average total cost of breast augmentation surgery ranges from $7,000 to $10,000. Breast augmentation is highly customized to your needs and wishes, and the cost of your breast augmentation will reflect this personalization. You should never choose your plastic surgeon based on the cost of the surgery. Like most things, there will be a low price and a very high price.
You will be given a comprehensive cost estimate during your consultation that will include the surgical fee, anesthesia fee, facility fee, and cost of the breast implants. The fee includes all post-surgical appointments, and Dr. Lo offers a free lifetime evaluation of your implant surgery.
Financing options are available to help make your breast augmentation dreams a reality.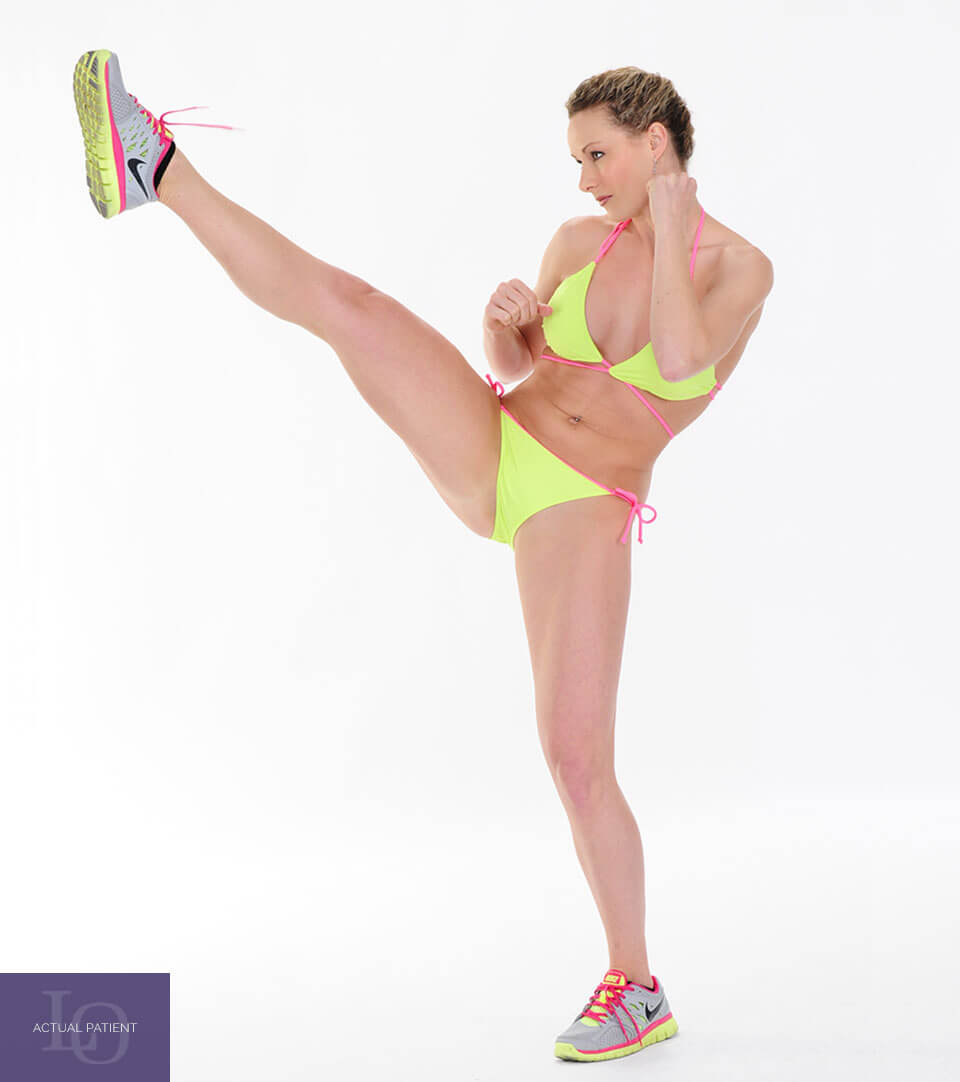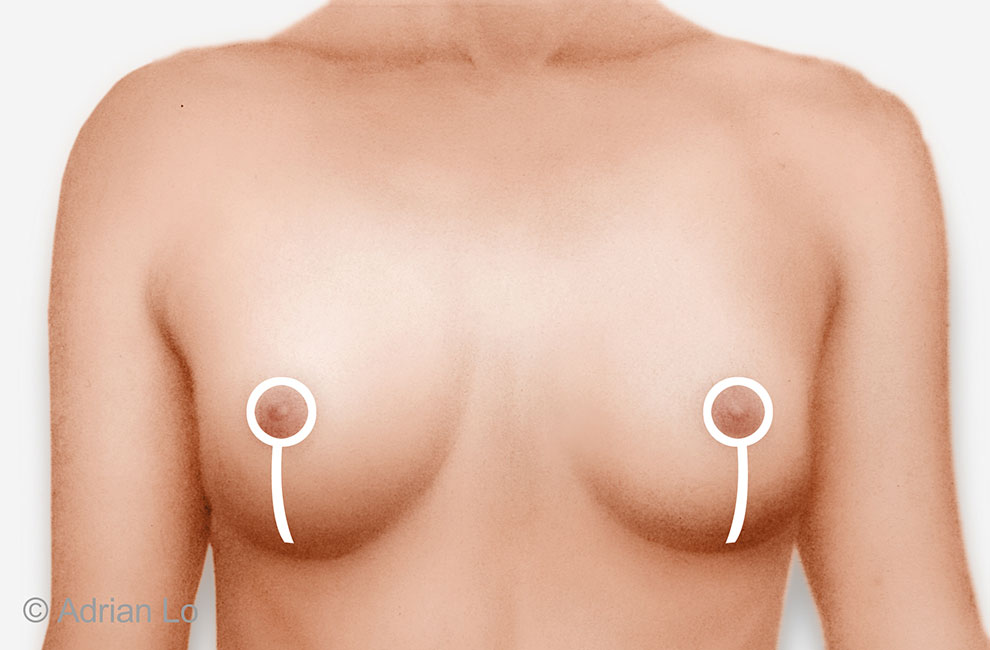 DO I NEED A BREAST LIFT WITH MY BREAST AUGMENTATION? 
If your breasts are saggy and you have loose skin, you may need a breast lift with your breast augmentation surgery. There are several types of mini breast lifts, including the 'lollipop' lift, that may be recommended with your breast implant surgery to improve your overall look.
What Are Frequently Asked Questions About Breast Augmentation?
Breast augmentation, or breast implant surgery, can be performed on women ages 18 years and up. There may be special circumstances where breast augmentation in women younger than age 18 would be appropriate, including asymmetric (uneven) breasts and psychological considerations. Breast implant surgery can be considered before having children or when no further pregnancies are planned. Breastfeeding is usually possible after breast augmentation. Many older women consider breast implants as a way to regain a more youthful appearance when their breasts begin to lose volume and sag.

Breast augmentation is very safe; however, it is still possible to experience complications. These complications include:

Bleeding or hematoma
Infection
Loss of nipple sensation, which can be temporary or permanent
Temporary hypersensitivity
Implant complications such as deflation or capsular contracture

Complications with your breast implant(s) can occur at any time after your augmentation surgery.

Some of these complications include:

Implant deflation, where inner implant material comes out from the silicone shell. When a saline implant leaks, the saline (saltwater) comes out and is absorbed by the body. When a cohesive silicone implant leaks, the silicone stays in place and is not absorbed by the body. However, it is safe and does not cause you any harm. Any implant that is deflated or ruptured needs to be replaced.
Capsular contracture, where the soft tissue capsule around the implant becomes thick and hard. If this occurs, you may need to have additional surgery to remove the capsule.

If you experience a complication with your implant, you will need to undergo breast implant replacement or breast revision. Usually, the same incision (transaxillary, crease, or periareolar) can be used, which allows for breast revision to be much less involved and less painful.

Your implants will come with a 10-year manufacturer's warranty, but many women choose to purchase an upgraded warranty as well.

No one can tell you how long your implants will last, but you should anticipate that you will need to replace your implants at some point. While some women need to replace their implants after five years, others keep theirs for over 20; the time is variable with each patient, with the average being about 10 years.

After breast implant surgery, you and your primary doctor should still be able to perform breast exams properly. Breast mammograms may still be performed routinely as a screening tool. Occasionally, a breast ultrasound or breast MRI may be recommended to fully examine the breasts with implants.

Breast augmentation can be one of the most rewarding experiences you can have. To make the most of your procedure, you need to be honest with yourself and your plastic surgeon and be realistic about your goals and wishes.

Before your consultation and procedure, you should:

Read about the procedure and learn about its benefits and risks
Use your judgment and don't trust everything you read on the internet—while there is a lot of useful information about breast augmentation, there is also misinformation, myths, and biases
Understand how your current breast situation and certain factors can affect your overall results, such as little or no breast tissue, breast droop, poor skin tone, and noticeably uneven breasts
Plan sufficient time to heal; if you are planning towards an important event, have your surgery at least a one month before the event
Be open with Dr. Lo and ask any questions that you may be confused about

Some women with breast implants report experiencing a variety of symptoms collectively
called breast implant illness (BII). The symptoms may include fatigue, rash, joint pain, hormonal problems, and neurological and other issues. These symptoms cannot be explained by known
medical conditions or abnormal blood tests. Some women will have their breast implants removed and experience relief from their symptoms. Breast implant illness is an uncommon
condition and is not clearly understood. Research is continuing into this condition.

There are two rare conditions called breast implant associated anaplastic large cell lymphoma (BIA-ALCL) and breast implant associated squamous cell carcinoma (BIA-SCC) that are cancers
that can develop around a breast implant. These rare conditions are not fully understood but are being investigated. For more information, please visit the FDA website. Dr. Lo continues to
monitor any new information and updates his patients as necessary about these rare conditions.

Before choosing your plastic surgeon for breast augmentation, you should consider the following:

Is your surgeon certified by the American Board of Plastic Surgery (ABPS)?
How often does your surgeon perform breast augmentation?
Does your plastic surgeon offer multiple incision and implant options?
Does your plastic surgeon listen to and understand your goals and objectives?
Do the surgeon's before and after photos show the results you want for yourself?
Do you feel comfortable with your plastic surgeon?

Dr. Adrian Lo is a board-certified plastic surgeon and a top breast specialist in Philadelphia, PA, Marlton and Cherry Hill, NJ, and the surrounding suburbs. Dr. Lo is highly accomplished in all breast augmentation techniques, including the periareolar and inframammary approaches, and he has expertise in transaxillary endoscopic breast augmentation.