What Is Morpheus8?
Morpheus8 is one of the most advanced methods used for tightening and toning the skin. This technology combines microneedling with fractional radiofrequency (RF) energy to stimulate collagen production and remodel the adipose (fat) tissue of the deep dermis underlying the skin.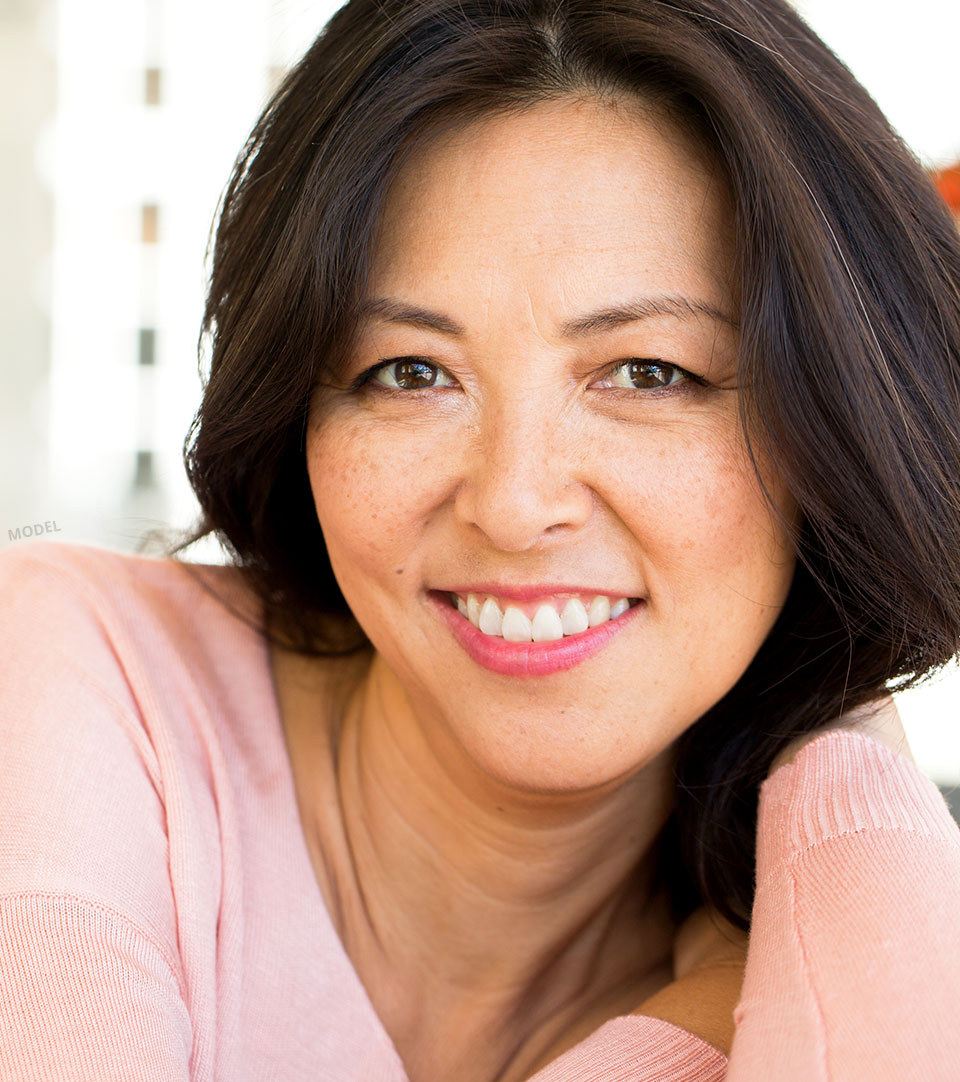 Morpheus8 = Microneedling + Fractionated Technology + RF Energy
Microneedling Benefits With Morpheus8
RF microneedling (Morpheus8) dramatically enhances the benefits of traditional microneedling by delivering thermal energy at controlled depths through the deeper layers of the skin. This further stimulates the production of growth factor enzymes, including collagen and hyaluronic acid. By adding heat to the deeper layers of the skin, fat remodeling and skin tightening effects are also enhanced.
What Is the Benefit of Fractionated Technology?
Fractionated technology essentially means that deep energy is delivered into tiny micro-zones of the skin. Surrounding these micro-zones are islands of untreated skin that help aid the healing process. This results in reduced downtime and faster recovery after Morpheus8 treatment.
What Is the Benefit of Radiofrequency Energy?
RF devices use thermal energy that is generated by an electric current as opposed to traditional laser energy using light. This makes using a radiofrequency device safe and effective on all skin types without the increased risk of damage to the superficial layers of the skin.
Is Morpheus8 Treatment Right for Me?
If any of the following apply to you, Morpheus8 treatment may be utilized to help you achieve your aesthetic goals:
If you are looking for a minimally invasive, nonsurgical alternative that will improve your skin's overall texture and complexion, Morpheus8 can be a great option.
If you are looking to help optimize your anti-aging regimen, Morpheus8 can be used in combination with injectables, including BOTOX® Cosmetic and dermal fillers.
Seeing more advanced signs of aging but not quite ready for surgery? Morpheus8 can be used alone or in combination with our slightly more invasive FaceTite® procedure to provide enhanced facial rejuvenation.
If you have previously had a facelift or FaceTite® procedure, a Morpheus8 treatment once a year is a great way to maintain your results.
What Can Morpheus8 Treat?
What Conditions Can Morpheus8 Treat?
Multiple benefits can be achieved with Morpheus8. Some of the most commonly treated concerns include:
Poor skin texture
UV damage
Lines and creasing
Skin laxity
Scarring
Active acne
Stretch marks
Fullness under the chin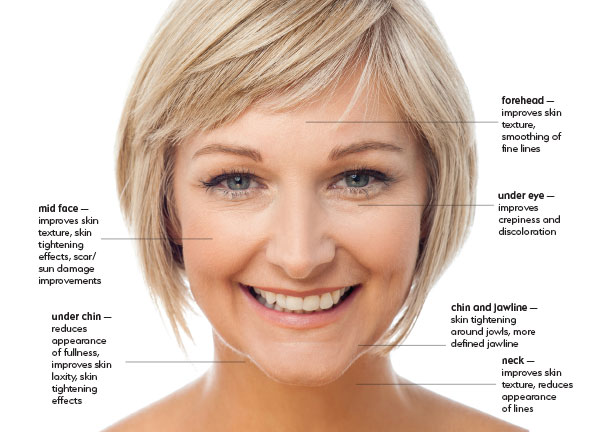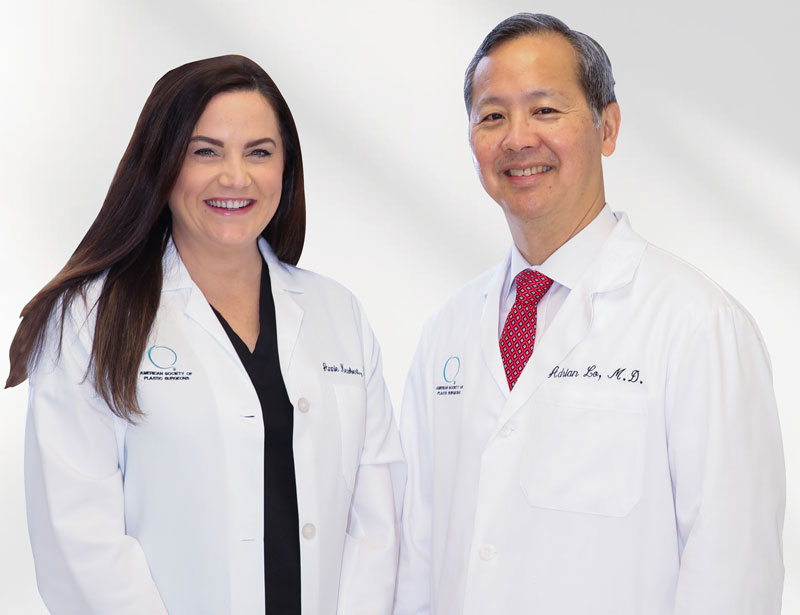 Dr. Lo with nurse injector Anne Newbert. BSN, RN, CCRN
What Areas Can You Treat With Morpheus8?
Morpheus8 treatment can be done anywhere on the body that can benefit from skin resurfacing, skin tightening, or remodeling. The most commonly treated areas are the face and neck, as this is where the signs of aging tend to be the most visible.
Frequently Asked Questions About Morpheus8
If it is determined during your consultation that Morpheus8 is right for you, you can expect the treatment regimen to include three sessions scheduled four to eight weeks apart.

During your appointment, we will ensure your skin is clean and dry and that the topical numbing cream has taken complete effect before we begin your session. The treatment is conducted using a handheld device with an applicator tip that will be placed against the skin where the needles can penetrate at a predetermined. The applicator will be moved across the treatment area in a stamp-like pattern to ensure a uniform process. The set depth and energy level used to treat the skin will be customized based on your skin type, your skin's integrity/laxity, and your overall condition. From the beginning of the appointment until you walk out the door, you can expect to be in the office for about 90 minutes.

To ensure your comfort, a topical anesthetic will be applied 45 to 60 minutes before your session begins (bring a book/iPad to enjoy some downtime). While you may still feel some of the heat, many patients find themselves pleasantly surprised with how comfortable the treatment is.

The most commonly seen side effects with Morpheus8 are considered mild and may include:

Redness/irritation in the treatment area, which usually resolves within 1-3 days
Mild swelling immediately following treatment that may last one to three weeks
With any cosmetic service that penetrates the skin, bruising is possible but should resolve within three to five days

There is very little recovery time associated with Morpheus8. Immediately following the appointment, you can expect your skin to have mild redness/irritation in the treatment area. During the session, a small amount of bleeding may occur where the needles have penetrated the skin, but this is normal and will subside shortly after the completion of the treatment. Mild bruising is possible and should resolve within three to five days. Any residual soreness you may experience can be managed with over-the-counter pain medications. Sun exposure should be avoided for at least one month following treatment.

It is recommended that you do not apply makeup until your skin has returned to its baseline, usually 1-3 days after treatment. Your skin may be sensitive during this time, so you should refrain from using any products that could be potentially irritating.

In as little as three days after your appointment, you may begin to see improvements in your skin's complexion and texture. The most noticeable results will be visible three weeks after your second treatment and will continue to improve for up to six months.

As the process of aging is ongoing, we recommend a maintenance session with Morpheus8 once a year to continue seeing improvements with your complexion and skin texture.