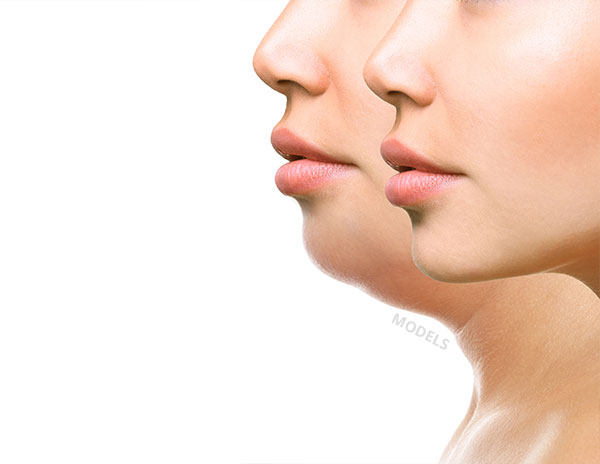 What Is KYBELLA®?
KYBELLA® is a nonsurgical injectable treatment used to reduce submental fullness, also known as a "double chin." Fat cells injected with KYBELLA® are permanently broken down, making them unable to store or accumulate fat. This process of fat cell elimination results in an overall reduction of the undesirable fatty tissue in the treated area.
Why Choose KYBELLA®?
KYBELLA® is the first of its kind and the only nonsurgical injectable that is FDA approved to treat submental fullness. KYBELLA® treatment eliminates fat cells under the chin to help reduce your "double chin" and improve the appearance of your profile.
KYBELLA® vs. Liposuction vs. FaceTite®
When exploring aesthetic options for your chin and neck, there are factors to consider.
KYBELLA®
Liposuction
FaceTite®
Neck Lift
Where is this procedure done?
In office
In office
In office
Surgery center
What type of anesthesia will I receive?
*General – asleep and comfortable
*Local – awake and comfortable
Local
Local
Local
General
What is this procedure suitable to treat?
Fat removal
Fat removal
Fat removal + moderate loose skin
Fat removal + severe loose skin
How much time will I need to recover?
Less than 3 days
3 to 5 days
3 to 5 days
7 to 10 days
What type of scars can I expect after recovery?
None
Minimal
Minimal
Hidden scars around the ears and hairline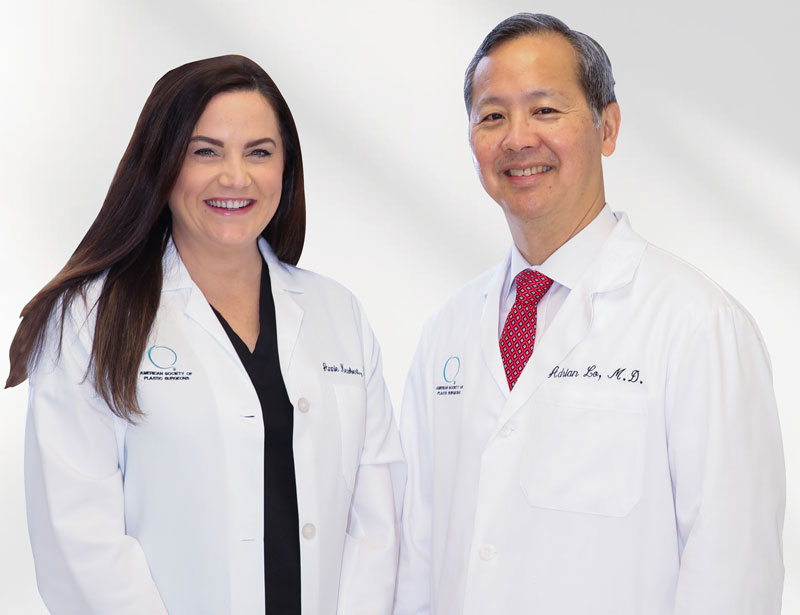 Dr. Lo with nurse injector Anne Newbert. BSN, RN, CCRN
Is KYBELLA® Right for Me?
Several factors, including weight fluctuations and genetics, play a role in how much fullness we have under our chin. In some cases, no amount of diet and exercise will completely remove excess fat.
During your initial in-office consultation, we will physically assess your chin and neck to determine if you are an ideal candidate for KYBELLA® treatment. This is to ensure that your area of concern is considered "treatable tissue." This means that we can pinch and feel actual adipose, or fat, tissue and not loose skin or muscle. If your aesthetic goals can be achieved with KYBELLA®, same-day treatment can be done at the time of your consultation.
Is KYBELLA® Painful?
Very little pain is reported with KYBELLA® treatment. To ensure you have the most comfortable experience possible, we will apply topical numbing cream and ice prior to the procedure. For a few days following treatment, it is normal to experience mild soreness in the neck.
How Many KYBELLA® Treatments Will I Need?
The number of KYBELLA® sessions recommended will depend on the amount of fat in the area being treated. Most patients require at least two treatments to achieve optimal results. During your consultation, we will examine your neck and design a treatment plan specific to your aesthetic goals.
When Will I See the Results of KYBELLA®?
Once KYBELLA® is injected, fat cell breakdown and absorption begin to occur. As this process completes, you will see less fullness and more definition in your neck area six to eight weeks after each treatment.
What Is Recovery After KYBELLA® Like?
KYBELLA® is directly injected into the layer of fat beneath the skin. Immediately after the procedure, mild to moderate swelling is expected. This is a good sign, as it is the first phase of the fat cells breaking down and the tissue healing. Depending on the severity of fullness in the treatment area, moderate swelling may last up to one week, with mild swelling lasting up to one month.
Aside from the expected swelling and mild soreness for a few days, there is no downtime after KYBELLA® treatment. In general, recovery time tends to lessen with subsequent appointments after the initial treatment.