Facelift Surgery
IN PHILADELPHIA AND NEW JERSEY
As people age, the effects of gravity and sun exposure as well as the stresses of daily life can be seen in their faces. Genetics also plays a role in showing signs of aging in the face and neck. The results of facial aging are deep facial creases and folds, jowls, and loose skin and fat around the jawline and neck. Facelift surgery addresses these issues and reverses the signs of facial aging in a natural fashion restoring a more youthful appearance.
Request a consultation
Photo Gallery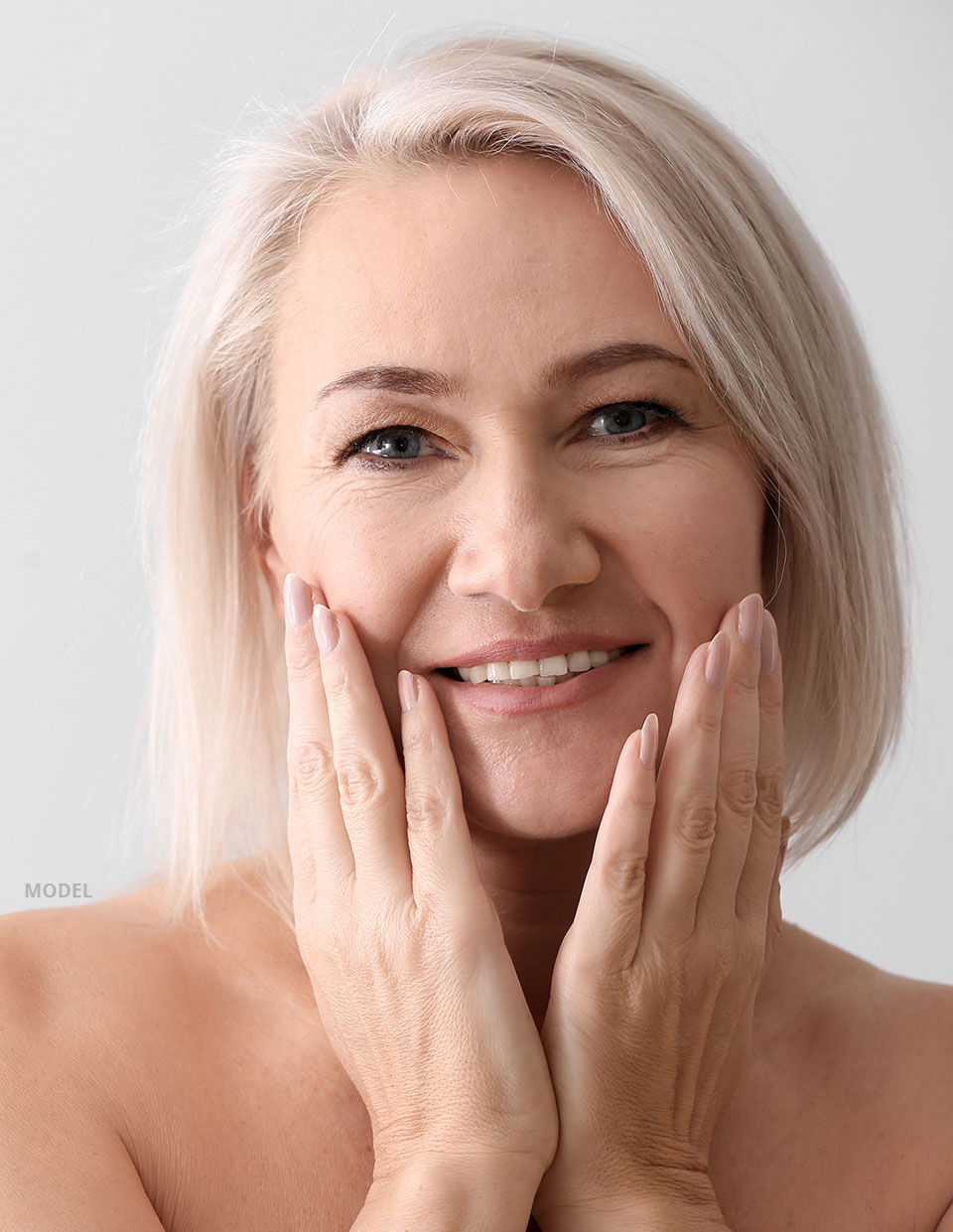 What does a facelift do?
While one can't stop the aging process, a facelift to help turn back the clock. By lifting the skin and the deeper tissues in the appropriate direction, the face and neck can be restored to a more youthful appearance, erasing years from the face without an "overpulled" or tight look.
What Are the Benefits of Facelift Surgery?
A facelift can rejuvenate a tired or aged appearance by:
Removing loose facial skin
Smoothing and lifting jowls
Defining the jawline
Removing the loose skin on the neck
Eliminating hanging skin under the chin, often called the "turkey gobbler" look
Removing fat underneath the chin
AM I A GOOD CANDIDATE FOR FACELIFT SURGERY?
You may be a candidate for facelift surgery if you:
Are showing the signs of facial aging such as deep facial creases and folds, jowls, and loose skin of the face and neck
Are in good health and a nonsmoker or planning to stop smoking for your surgery
Are at a stable weight; however, you do not necessarily need to be at your ideal weight
Have realistic expectations of what facelift surgery can achieve
WHAT DOES FACELIFT SURGERY INVOLVE?
What is Discussed During My
Facelift Consultation
A consultation with Dr. Lo is essential before your facelift surgery. During the consultation, Dr. Lo will discuss your goals for the procedure, evaluate your situation, and offer recommendations. Some patients may need to have an upper eyelid surgery, a lower eyelid surgery, and/or a brow lift combined with their facelift in order to enhance their overall look.
HOW LONG DOES
FACELIFT SURGERY TAKE?
In general, the procedure times are as follows:
Full facelift: three hours
Mini facelift: one to two hours
Nonsurgical facelift: one hour
WHAT TYPE OF ANESTHESIA IS USED FOR
FACELIFT SURGERY?
You have a choice of anesthesia for your facelift surgery.
General anesthesia (most common option for facelift surgery): you are completely asleep
Twilight sedation: uses local anesthesia to numb the area, and you are made comfortable with medications through intravenous delivery
Local anesthesia (most common option for the nonsurgical facelift): numbs the treatment area, and you are completely awake
WHAT SHOULD I EXPECT FOR MY RECOVERY AFTER A
TRADITIONAL FACELIFT?
After your facelift procedure, you should rest and elevate your head. You will have a gauze dressing around your face and neck area. Occasionally, you may have drains to prevent fluid buildup. Dr. Lo has a special protocol to minimize your swelling and bruising so you may return to normal activities quickly.
The next day, you will return to see Dr. Lo for removal of your facelift dressing and drains, if you have them. You will be given a face and neck compression band to wear for approximately four weeks. After your appointment, you will be able to shower and wash your hair. All stitches will dissolve in one to two weeks.
Patients can usually drive in three to five days and may resume light exercise in 10 to 14 days. However, heavy lifting and exertion should be avoided for a full two to three weeks.
WHAT TYPES OF FACELIFTS ARE PERFORMED BY DR. LO?
---
FULL (TRADITIONAL) FACELIFT
Most patients require a traditional two-plane facelift to achieve maximum correction of the areas of concern and the best results. The steps in Dr. Lo's two-plane facelift procedure are as follows.
Cuts (incisions) are made in the temporal hairline and extend down in front of the ear. The incisions continue behind the ear, ending in the hairline of the neck. These incisions normally heal well and are well-hidden in these areas.
The facial and neck skin is mobilized and pulled backward, and the loose skin is removed. The deeper muscle layer underneath the skin, called the SMAS, is also freed up and tightened to provide a smoother result.
The extra fat underneath the chin is removed, and separated muscle is sewn together to give you a smooth neck and correct the "turkey gobbler" look.
The entire facelift procedure is done carefully and in a natural fashion to give you as much improvement as possible while avoiding an "overpulled" or unnatural look.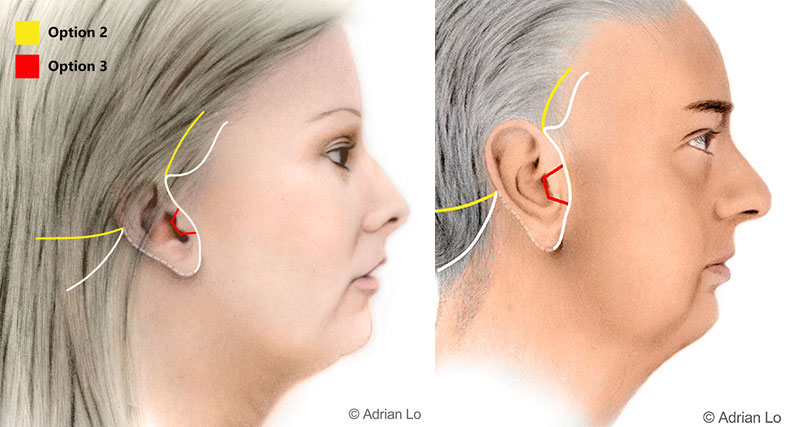 MINI FACELIFT
Based upon your facial evaluation by Dr. Lo, he may recommend a mini facelift to achieve your goals and give you the refreshed look you want.
If you are between the ages of 30 and 50 and need your look refreshed, a mini facelift may be ideal for you. However, if you need more correction of the neck or face, then a full facelift would be a better option.
WHAT IS THE DIFFERENCE BETWEEN A MINI FACELIFT AND A FULL FACELIFT?
The incisions are shorter.
Recovery time is quicker (about one week or less).
The mini facelift can be done under local or twilight sedation.
NONSURGICAL FACELIFT – FACETITE®
Often, patients maintain their look throughout the years with skin care, BOTOX® Cosmetic, and injectable dermal fillers. If one is not ready for a facelift or a mini facelift, a good option is to consider Dr. Lo's nonsurgical facelift procedure. This involves using radiofrequency technology called FaceTite® to tighten your skin and smooth your jowls and nasolabial folds.
WHAT Happens during THE "NONSURGICAL" FACELIFT (FACETITE®) PROCEDURE?
Tiny cuts are made in the face and neck.
Using a small handpiece, radiofrequency treatment is applied to your face and neck skin to tighten it. The jowls and the nasolabial folds are smoothed out.
Liposuction is performed, if needed.
Radiofrequency microneedling may be performed to improve the skin texture.
The benefits of the "nonsurgical" facelift are that it can be done in the office with local anesthesia, with minimal recovery and downtime (typically two to three days).
WHAT SHOULD I EXPECT WITH FACELIFT SURGERY?
WHEN WILL I SEE MY FACELIFT RESULTS?
You will immediately notice that the loose skin is removed. However, there will be mild swelling and bruising that will take time to go away completely, and you may not see your final results for up to six months. You should see continued improvement in your jawline and neck over time.
You will have regular follow-up appointments with Dr. Lo to monitor your healing for up to one year after your facelift surgery.
HOW WILL MY FACELIFT SCARS HEAL?
Facelift scars usually heal well, but we cannot predict exactly how your scars will heal after facelift surgery. Usually, the scars will heal like a fine line, but they will always be somewhat visible. How you heal will depend on how you heal from scars generally, but this can be difficult to know if you have never had scars from a previous surgery.
To minimize the appearance of scars, Dr. Lo will:
Suture (sew up) your incisions very carefully using dissolvable stitches
Recommend scar creams and products for you to use to help to reduce the appearance of the scars
Recommend scar revision or touch up of the scars if he feels it will improve them
HOW LONG WILL IT TAKE FOR MY FACELIFT SCARS TO HEAL AND FADE?
It can take one to two years for your facelift scars to fade and heal completely. During your recovery, you will have regular visits to see Dr. Lo to make sure you are healing normally.
HOW LONG WILL MY FACELIFT RESULTS LAST?
Typically, the results of a full facelift should last 10 years or more; however, this timeframe can vary depending on how you continue to age and how you take care of yourself. A mini facelift may last five years or more. If you develop signs of loose skin and further aging, a mini facelift may be performed again. If you have more significant facial sagging, you may need a full facelift to achieve ideal results.
What PROCEDURES ARE USUALLY COMBINED WITH FACELIFT SURGERY?
---
DO I NEED A BROWLIFT WITH MY FACELIFT?
During your consultation, Dr. Lo will evaluate your situation and determine if a brow lift surgery would be recommended with your facelift surgery. A brow lift can correct drooping eyebrows and 'hooding over the eyes' by repositioning the brows to a normal, lifted position. The resulting overall look is a more alert, rested, and youthful appearance done naturally and not overpulled.
DO I NEED AN UPPER EYELID LIFT WITH MY FACELIFT?
During your consultation, Dr. Lo will evaluate your situation and determine if an upper eyelid lift would be beneficial with your facelift surgery. If you have loose skin over your upper eyelid, Dr. Lo may recommend an upper eyelid lift to give you the best look possible.
DO I NEED MY LOWER EYELIDS DONE AS WELL?
If you have fat pads in your lower eyelid area with loose skin, Dr. Lo may recommend combining a lower eyelid surgery with your facelift surgery. By contouring and removing the fat pads and fat protrusions, your lower eyelid area will be smoother and you will look refreshed and less tired.
I JUST WANT MY NECK LIFTED.  DOES DR. LO OFFER NECK LIFT SURGERY ON ITS OWN?
Yes, of course! In some patients, their loose skin and aging are just in the neck area. In these cases, only a neck lift is recommended. However, most patients will also show signs of loose skin and aging in the face area, especially the jowls. With this situation, Dr. Lo may recommend that a facelift be performed to correct the face and neck area together to give you a better overall result. A neck lift only corrects the neck area and not the face.
WHAT OTHER PROCEDURES CAN BE COMBINED WITH FACELIFT SURGERY?
Facelift surgery can be performed alone, or it can be performed alongside additional face procedures like nose surgery (rhinoplasty) or ear pinning surgery (otoplasty). A facelift can also be combined with body contouring procedures such as liposuction surgery or tummy tuck surgery.
Frequently Asked Questions About Facelift Surgery
Facelift surgery is done very naturally, and Dr. Lo will not change who you are or your unique look. You should look like yourself but refreshed, less tired, and younger.

Facelift surgery is well-tolerated and not usually painful. Most of Dr. Lo's patients take Extra Strength TYLENOL® afterward or no pain medications at all. If you need stronger pain medications, a prescription will be given.

You should plan to take about seven to 10 days off work, as you may have bruising and swelling. You may use makeup in about five to seven days and wear sunglasses when you go out to cover any bruising.

If you are having a mini facelift or a "nonsurgical" facelift with a quicker recovery, you may be able to take less time off work. Dr. Lo will advise you on your recovery timeline.

Usually, skin removal will give you the result you need with facelift surgery. However, if you have excess fat in certain areas, this fat will be removed during the surgery. Often, there is extra fat beneath the chin that needs to be removed to give you better definition in this area.

The stitches used will dissolve by themselves in one to two weeks.

Facelift surgery is safe, but there are risks that you have to be aware of. As with any surgery, there are the usual risks of bleeding, infection, healing problems, numbness, nerve injury, and asymmetry. Dr. Lo will discuss with you the possible risks in your situation.

Dr. Lo performs facelift surgery in the safety and sterility of Pennsylvania Hospital Tuttleman Surgery Center, Pennsylvania Hospital, and accredited surgery centers in the region. It is an outpatient surgery, and you go home the same day.
A "nonsurgical" facelift is performed in the office.

The cost of facelift surgery ranges between $11,400 to $14,500 depending if it is a full- or mini- facelift. This cost includes Dr. Lo's fee and the hospital and anesthesia fees. Facelift surgery is a specialized surgical procedure, and the overall cost of your operation will vary depending on your specific needs.

Often, facelift surgery is performed with upper and lower eyelid surgery or a brow lift. Our patient care coordinator can determine the cost of combining these surgeries for you during your consultation.

Choosing your plastic surgeon is one of the most important decisions you can make during your plastic surgery journey. Plastic surgeons are certified by the American Board of Plastic Surgery (ABPS). This certification ensures that the surgeon has met rigorous academic, professional, and ethical standards and is, therefore, highly qualified to perform your surgery.

Before choosing a surgeon for your facelift surgery, you should do your research and ask questions to ensure that you feel comfortable with the decision. Ask to see a surgeon's before and after images to make sure you are happy with the results you see.

Dr. Adrian Lo is a top board-certified plastic surgeon in Philadelphia. He is a member of the Aesthetic Society (ASAPS) and the American Society of Plastic Surgeons (ASPS). He is also a Fellow of the American College of Surgeons (FACS).

Visit our plastic surgery photo gallery to see facelift before and after pictures of Dr. Lo's patients.
Want to Find Out More
ABOUT FACELIFT SURGERY IN PHILADELPHIA?
If you are interested in learning more about facelift surgery, contact Dr. Lo by calling (215) 829-6900 or by filling out our online contact form. Dr. Lo offers facelift surgery for patients in the tri-state area of Pennsylvania, New Jersey, and Delaware, including the cities of Philadelphia, Marlton, Cherry Hill, and Mount Laurel.