3 Minute Read:
Whether you've lost a significant amount of weight or just had a baby, you deserve a pat on the back! These last months have most likely certainly had their challenges.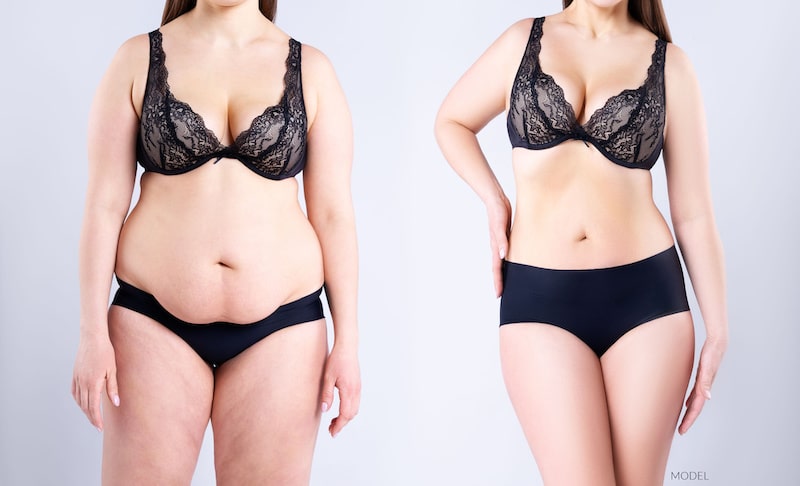 The Benefits of Weight Loss
If you have worked hard to lose weight or had bariatric surgery and are now at or close to your ideal weight, you should be beginning to reap the following benefits:
Reduced risk of heart attack and stroke
Decreased risk of diabetes
Increased overall health
Ability to wear more attractive clothing
Improved confidence
If you have recently given birth, the rewards are obvious, and your priorities have shifted. Just don't forget about your needs. A well-balanced life leaves enough room for a mother's health and self-esteem.
To make this giant leap forward, your body had to undergo many changes, and you probably have been left with loose skin or pockets of fat around your abdomen.
Not to worry — you've done the hard part, and there are solutions to this common problem.
What Is a Tummy Tuck?
A tummy tuck or abdominoplasty is a surgical procedure that involves removing loose, sagging skin (called a pannus), removing extra fat from the abdominal and flank areas, and tightening the underlying rectus abdominis muscle.
Liposuction is an important part of tummy tuck surgery.
In a full tummy tuck, an incision is made at your pubic hairline (matching your bikini line) that extends from the front of one hip to the other. However, there are other options depending on the amount of existing loose skin and fat.
These include:
The Endoscopic Tummy Tuck
An endoscopic tummy tuck is appropriate for patients without loose skin or pannus who are seeking only the tightening of abdominal muscles. A much shorter (four-inch) incision is required, liposuction is performed in the area as needed, and the abdominal muscles are repaired by bringing them together in the midline.
This is most beneficial for fit mothers who experience diastasis recti without loose skin. Often, these patients look like they are still pregnant even when they are not!
The Mini Tummy Tuck
A mini tummy tuck addresses mild to moderate abdominal fullness and loose skin without requiring the same amount of downtime. This tummy tuck option can remove more fat and skin than an endoscopic tummy tuck but is not as comprehensive as a full tummy tuck.
A mini tummy tuck involves a shorter incision being made to allow access to the muscles for tightening and to remove more skin. Liposuction is also performed to remove any unwanted fat in the front of the abdomen and the flanks.
Full Tummy Tuck With Lateral Flank Extension
Patients with a large amount of excess skin on their flanks / love handles and abdomen can benefit most from a full tummy tuck with a lateral extension or extended tummy tuck.
This is a common technique for patients who have recently experienced massive weight loss.
This procedure requires the incision to continue around the hips so that the excess skin can be removed. The incision is still hidden beneath the bikini line.
Your Choice of Tummy Tucks in Philadelphia, PA
Dr. Adrian Lo is a board-certified plastic surgeon in Philadelphia who is highly skilled and experienced in tummy tuck procedures.
His excellent reputation was built by delivering beautiful results while placing his patient's safety above all else.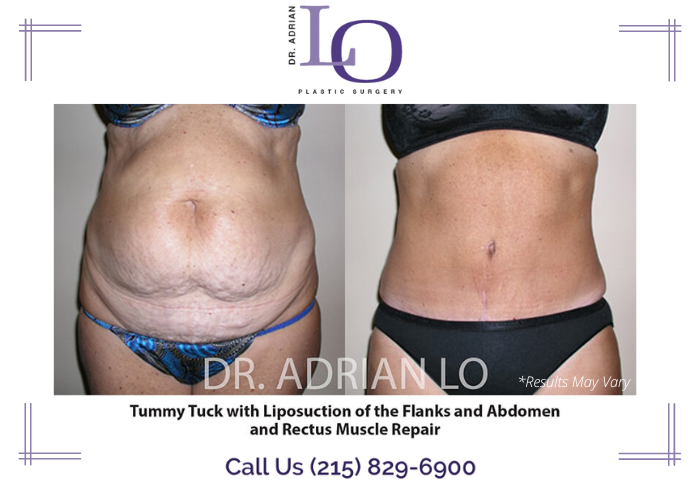 Check out Dr. Lo's before and after photos – then call our office at (215) 829-6900 to schedule your consultation. You can also fill out our online contact form by following the link below.