3 Minute Read:
When it comes to breast implants, you now have a wide variety of safer, more natural options regarding filling material, implant shape, and placement.
However, other strides have been made in breast implant incision techniques, allowing for options that leave no scars on the breast!
Armpit/Transaxillary Incision for Scarless Breast Augmentation
While scarless breast augmentation does not mean that there will be no resulting scars, it does mean that there will be no scars on the breasts themselves. This is because no incision is made there. Instead, a scarless breast augmentation makes use of the transaxillary incision.
This incision is made within the depth of the armpit, and a pocket is created behind the muscle for the placement of the implant with the assistance of an endoscope. An endoscope is a small camera positioned on the end of a long, thin tube that gives Dr. Lo a better visual of the internal tissues and helps in performing the surgery.
This incision is typically an inch and a half long, heals quickly, and, because the scar resembles a natural armpit crease, is virtually undetectable.
Many plastic surgeons limit the armpit incision to those receiving saline implants, but a small handful of qualified breast augmentation specialists are using state-of-the-art techniques to accommodate silicone implants as well.
Saline-filled implants are placed deflated through the armpit cut into the breast pocket before they are filled with saline. Silicone implants are inserted whole through the armpit cut into the breast pocket using a special funnel.
The transaxillary or armpit incision is becoming a highly popular technique for placement of both saline and silicone implants.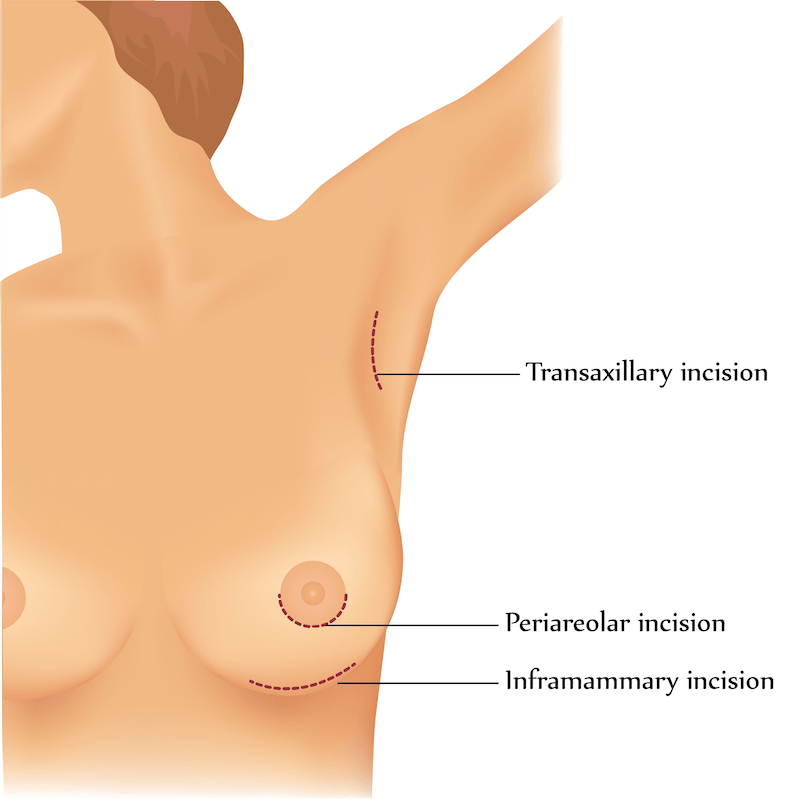 Other Breast Implant Incision Types
For patients who are not candidates for the "scarless" technique, other breast augmentation incision options are available.
Periareolar Incision
The periareolar incision, otherwise known as a nipple incision, is made along the bottom half of the areola — the darker skin surrounding the nipple and looks like a "smile". This technique is generally used when placing saline or silicone implants, and the resulting scar heals well.
In fact, the scar is usually very difficult to see once healing is complete.
Crease/Inframammary Incision
The inframammary incision, also known as a crease incision, describes an inch and a half surgical cut made underneath the breast in the natural crease.
Like other incision types, these scars heal well, and while they may be more noticeable than other incisions, the benefits of this technique are that large breast implants can easily be placed, and the scar will be hidden underneath the breasts.
Breast Augmentation in Philadelphia, PA, With the Armpit Incision Technique
Dr. Adrian Lo is well-qualified to perform breast implant placement using all three incision techniques and is so exceptionally skilled in the transaxillary approach that he offers this option with both silicone and saline-filled breast implants.
If you want to learn more about your scarless breast augmentation options, call Dr. Lo today!
His Philadelphia cosmetic surgery practice serves all of Pennsylvania, New Jersey, and Delaware, including the cities of Marlton, Cherry Hill, and Mount Laurel.