4 Minute Read:
If you're considering breast augmentation options, a scarless endoscopic technique sounds exciting and appealing, especially when you realize that you can get larger, fuller breasts without any incision or scar on your breast.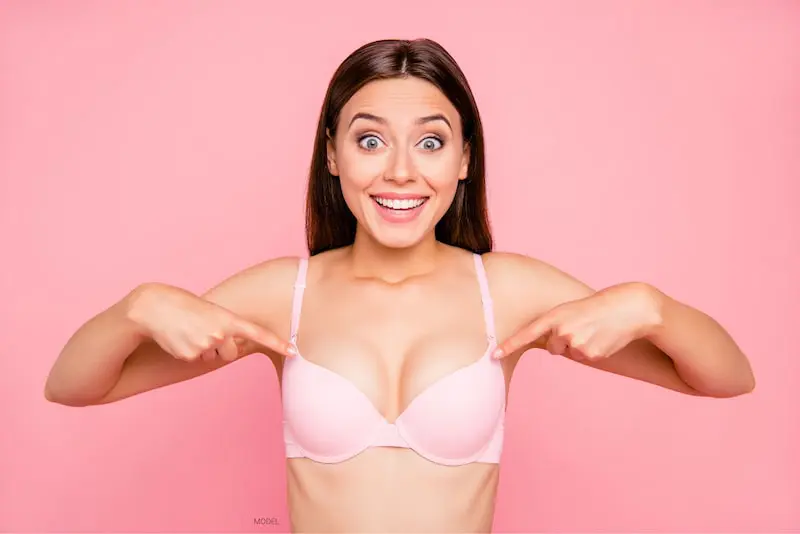 While the armpit incision/transaxillary approach or scarless breast augmentation has been around for years, and is offered by select plastic surgeons worldwide, it is a specialized technique, and you shouldn't trust just any plastic surgeon. Instead, you should only consider a plastic surgeon who does the technique routinely and often.
A plastic surgeon with expertise in the armpit approach will give you more choices for breast implant options and a safer procedure with better results.
A comprehensive breast enhancement consultation with a plastic surgeon experienced with the armpit approach can help you make the best decision for your breast augmentation.
How Does a Scarless Breast Augmentation Work?
The transaxillary incision is used for the scarless breast augmentation procedure. This technique involves an incision made in the crease of each armpit. This incision is typically an inch to an inch-and-a-half long and heals nearly invisibly.
Transaxillary breast augmentation differs from more traditional methods (with incisions on the breasts — nipple/areolar and crease) in the following ways:
The Endoscope
A thin fiber-optic tube called an endoscope, which has an attached camera, is inserted through the armpit incision to allow for visualization during the surgery.
The endoscope allows the surgeon to create a pocket behind the breast with the use of long fine surgical instruments while the entire procedure is seen on a video monitor. Once this pocket or space is created, the breast implant is placed through the armpit incision with the assistance of an implant funnel.
See what you can expect when you visit Dr. Lo for a scarless breast augmentation.
Saline and Silicone Implants
Most plastic surgeons limit the use of transaxillary incisions to patients receiving saline implants. Because saline implants are filled after being placed behind the breast, it is easier to maneuver the empty saline implants through the soft tissues between the armpit and breast.
More experienced transaxillary specialists can also use silicone implants for a scarless breast augmentation. Most often, the silicone implants are on the smaller size, since they are being funneled into position. The larger the silicone implant, the larger the incision.
The Plastic Surgeon Experienced in the Armpit or Transaxillary Technique
If you decide to opt for a transaxillary incision with silicone implants, it is essential to do your homework and confirm that your plastic surgeon performs this procedure regularly with silicone implants.
Dr. Adrian Lo, in Philadelphia and Marlton, is an expert in the transaxillary or armpit technique, having refined this technique over the last 20 years. Dr. Lo has performed thousands of scarless breast augmentations in his practice.
Dr. Lo also uses a "no-touch" implant funnel technique when placing implants, which helps him place larger silicone implants through smaller incisions without the implant touching the skin.
Dr. Lo can place implants with volumes of 400 cc, 500 cc, 600cc and larger. This allows for smaller scars, better aesthetic results, and less risk of complications.
Scarless (Endoscopic) Breast Augmentation Benefits
For women who are interested in saline or silicone implants, transaxillary breast augmentation offers the following advantages:
No scars on the breast
Armpit scar is small and virtually invisible
Faster, easier recovery period
Limitations With Scarless Breast Augmentation When Not Working With a Transaxillary Specialist
If your plastic surgeon is not experienced in the armpit incision, you may only be offered only saline breast implants through the armpit.
The highly cohesive silicone gel or gummy bear implant may be placed through the armpit incision if your plastic surgeon is a transaxillary specialist.
The silicone implant or gummy bear implant offers significant advantages for women looking for a more natural feeling and natural look for their breast enhancement procedure. Submuscular breast implant placement is the preferred position for the silicone implant.
Other Breast Implant Incision Options
If you prefer silicone breast implants and want a bigger breast size increase, consider these other incision options:
Periareolar Incisions
This incision is made around the bottom edge of the nipple/areola to accommodate saline or silicone breast implants.
Inframammary Incisions
This incision is made along the crease under the breast where it meets the chest and can also accommodate both silicone and saline breast implants.
Top Doc for Endoscopic Scarless Breast Augmentation
Dr. Adrian Lo is both a well-respected, board-certified plastic surgeon and a board-certified endoscopic surgeon. This additional training and recognition make Dr. Lo uniquely qualified to perform scarless breast augmentation in Philadelphia, Pennsylvania.
Dr. Lo developed his special armpit technique and refined the scarless breast augmentation technique over the last 20 years and this his primary technique for his patients wishing breast enhancement.
Check out our scarless breast augmentation facts here.
Scarless Breast Augmentation in Philadelphia, PA
Call Dr. Lo's office at (215) 829-6900 to schedule your Philadelphia scarless breast augmentation consultation today.
Scarless Breast Augmentation in Marlton, NJ
Over the state line? Dr. Lo also offers transaxillary breast augmentation at his Marlton, New Jersey, location. Call (215) 829-6900 for more information or to schedule your consultation.