4 Minute Read:
All you need to do is look at before and after photos, and you can see why tummy tuck surgery is one of the most popular cosmetic procedures every year. This is because a tummy tuck (also known as abdominoplasty) works to recontour your midsection, which is especially important if you suffer from excess fat and sagging skin in the tummy.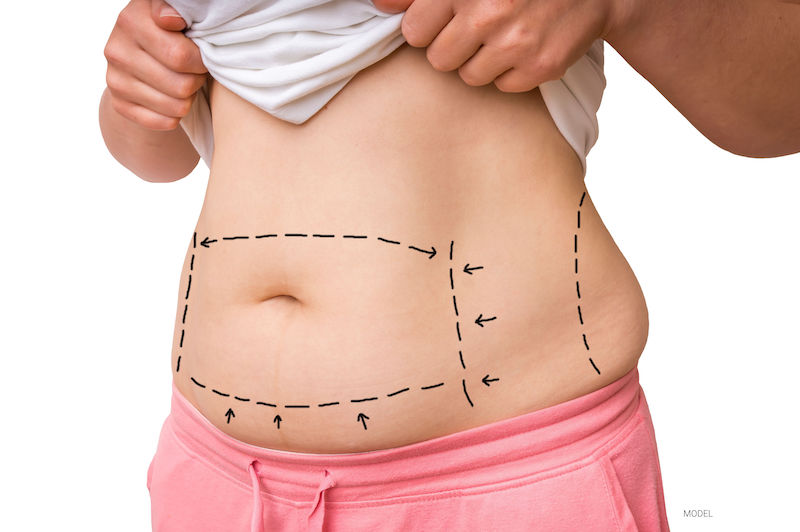 While the reasons for needing a tummy tuck vary from pregnancy and childbirth to age to lifestyle, the reality is that abdominoplasty can help you achieve a contoured midsection. However, what many women and men don't necessarily realize is that different abdominoplasty options are available.
And while not everyone is a candidate for each of these procedures, it is a good idea to know a little more about your choices to help prepare yourself for your tummy tuck.
What Are the Benefits of a Tummy Tuck?
Before discussing your abdominoplasty options, it's smart to talk a little about the purpose of tummy tuck surgery.
With a tummy tuck, excess subcutaneous fat is removed from the midsection with the aid of liposuction surgery. Here, the fat is literally vacuumed out of your tummy to give you a flatter, more contoured shape and appearance.
Dr. Lo will tighten the underlying abdominal muscles with the use of internal sutures. This is helpful for all patients, especially women who experience diastasis recti (separation of the abdominal muscles) from childbearing or weight loss.
Excess skin is surgically removed, and the remaining skin will be pulled tight to give you a more toned appearance.
After a tummy tuck, you can expect physical and psychological benefits. Not only will you be able to wear the clothes you've always wanted to wear but felt too self-conscious to wear, but you can look forward to feeling more confident and comfortable with your body contours whether your shirt is on or off.
What Are My Tummy Tuck Options?
In addition to a full tummy tuck, which targets the entire midsection both above and below the navel and includes repositioning of the belly button, Dr. Lo is excited to offer mini tummy tuck surgery, endoscopic tummy tuck surgery, and full tummy tuck surgery with lateral flank extension.
Mini Tummy Tuck
A mini tummy tuck lives up to its name, since it is a miniaturized version of a full tummy tuck.
This procedure requires smaller incisions, which means that you will have shorter scars. Additionally, the recovery time is generally less with a mini abdominoplasty.
However, because it is less invasive, a mini tummy tuck cannot offer the same overall results as a full abdominoplasty and should only be performed on the right candidate.
A mini tummy tuck focuses on the lower abdomen only (the area below the navel). Excess fat and skin are still removed, and the underlying muscles will still be tightened, but the belly button will not be repositioned, and correction is not made above the navel.
This procedure is a great choice for women and men with mild to moderate skin laxity in the lower abdomen.
Endoscopic Tummy Tuck
An endoscopic tummy tuck is a less invasive abdominoplasty option since an endoscope (a small tool with a camera at the end of it) is used to complete the procedure. Liposuction is still used to minimize stubborn fat around the waist, and muscles are tightened, but only a small amount of skin is removed.
An endoscopic tummy tuck is a smart choice for patients experiencing minimal cosmetic concerns.
Full Tummy Tuck With Lateral Flank Extension
A full tummy tuck with lateral flank extension is a full tummy tuck that includes the sides of the body to the hips.
Fat is removed, muscles are tightened, excess skin is removed, and the love handles are addressed.
How Do I Know Which Abdominoplasty Option Is Right for Me?
While many prospective tummy tuck patients learn about the mini or endoscopic tummy tuck and think that these techniques are perfect for them, the reality is that not every patient qualifies for every technique.
The amount of correction needed, along with the desired results, dictates which procedure is best. This is why your consultation with Dr. Lo is so important.
At your consultation, you will be able to discuss your aesthetic concerns, and Dr. Lo will evaluate your condition to determine which abdominoplasty procedure will suit your needs.
Do You Want to Learn More About Tummy Tuck Surgery in Philadelphia and New Jersey?
If you are interested in the benefits of abdominoplasty, please call us at (215) 829-6900 or fill out our online form here. We look forward to helping you achieve the look and feel you desire.