3 Minute Read:
Beach weather is approaching, and it's not only women who want to look good in bathing suits.
Many men like to go shirtless in the spring and summer months, whether at the beach, pool, or gym.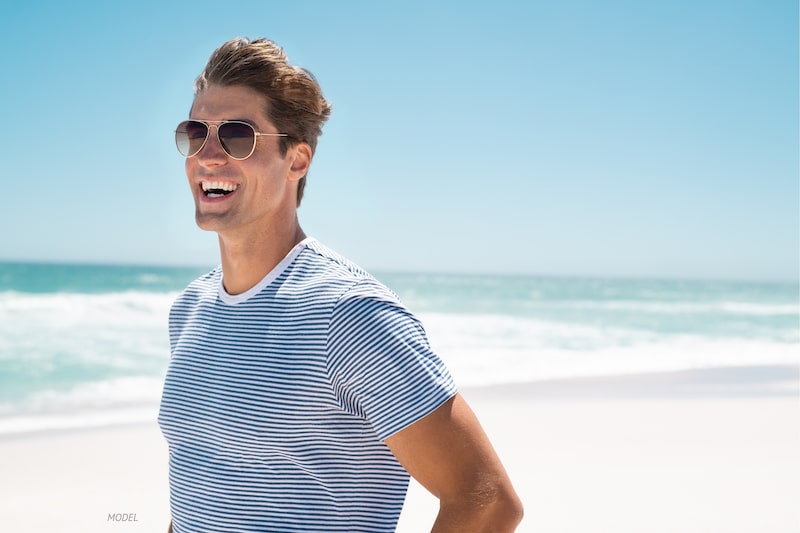 For men struggling with gynecomastia or "man boobs," anxiety and lack of self-confidence may arise when bare-chested. Diet and exercise may not be effective in correcting the issue. Male breast reduction is a common solution for men who want to get rid of the excess breast tissue and fat that exists with gynecomastia or "man boobs."
Can Gynecomastia Be Cured With Diet and Exercise?
Unfortunately, if you have true gynecomastia (enlarged male breasts or man boobs), surgery is the only effective way to correct it. For men who are otherwise in good shape, a male breast reduction is the best way to take care of the problem once and for all.
How Does Male Breast Reduction Work?
Male breast reduction surgery is designed to remove excess breast tissue. Liposuction of the chest fat combined with the surgical removal of gland tissue and sometimes excess skin is performed to re-contour the chest. Most gynecomastia surgery patients undergo both surgical excision called subcutaneous mastectomy and liposuction to remove excess breast tissue and fat to sculpt the chest and make the chest look normal. The most important part of the procedure is removing the gland (true breast tissue) so that the gynecomastia will be completely gone and will not come back.
Your surgeon may use local anesthesia with sedation or general anesthesia for your surgery. Small incisions are made around the edges of the areolas or under the armpits through which the excess breast tissue is removed. The chest is then sculpted for a more masculine appearance.
Will I Recover in Time for Summer?
Post-surgery instructions will be provided for you following your treatment. Part of this recovery will include a compression chest garment, which must be worn for four weeks after the surgery to reduce swelling and help contour the chest.
You may have medications prescribed for you for pain, although most men find the surgery relatively tolerable and simply take Tylenol or no pain medication after the surgery. You'll be instructed to take it easy and avoid exercise for about two weeks; however, most men return to work or their normal activities in less than a week. Two weeks after surgery, you are allowed to return to the gym with modified workouts.
All-in-all, most men find that their chest looks normal and looks "beach ready" in about four to six weeks. Your scars may be noticeable at first but will fade dramatically over time, becoming virtually invisible.
Therefore, if you are interested in baring your chest this summer, you should plan to give yourself about one month of recovery.
Each gynecomastia case differs, and there is no guarantee that all of your swelling will have subsided within that six-week timeframe. Everyone recovers at a different rate.
Other Causes of Enlarged Breasts in Men (Besides Gynecomastia)
Other causes of large breasts in men include the following and should be ruled out before breast reduction surgery:
Pseudogynecomastia
Mastitis
Breast cancer
Metastasis
Lipoma,
Dermoid cyst
Sebaceous cyst
Hematoma
Ductal ectasia
Fat necrosis
Hamartoma
Enlargement of the pectoralis muscles
What Are Some Other Popular Cosmetic Surgeries for Men?
While male breast reduction for gynecomastia is one the most popular plastic surgeries sought by men, these procedures listed below are also increasing in popularity:
Looking for Help With Gynecomastia in Philadelphia?
Many plastic surgeons perform male breast reduction in Philadelphia, but it is the personal care, surgical expertise, and excellent results he achieves that sets Dr. Adrian Lo apart from the rest.
His extensive training in plastic surgery, combined with more than 30 years of experience, makes Dr. Lo an authority in male breast reduction surgery.
Learn more by contacting our cosmetic surgery practice today! Call us at (215) 829-6900.