Nearly everyone could think of a part of their body that could use a bit of smoothing out. For many women, their stomach area is their biggest complaint.
It's an area commonly affected by pregnancy, genetics, and changing hormones, causing excess fat and a belly "pooch" that is challenging to flatten and disguise.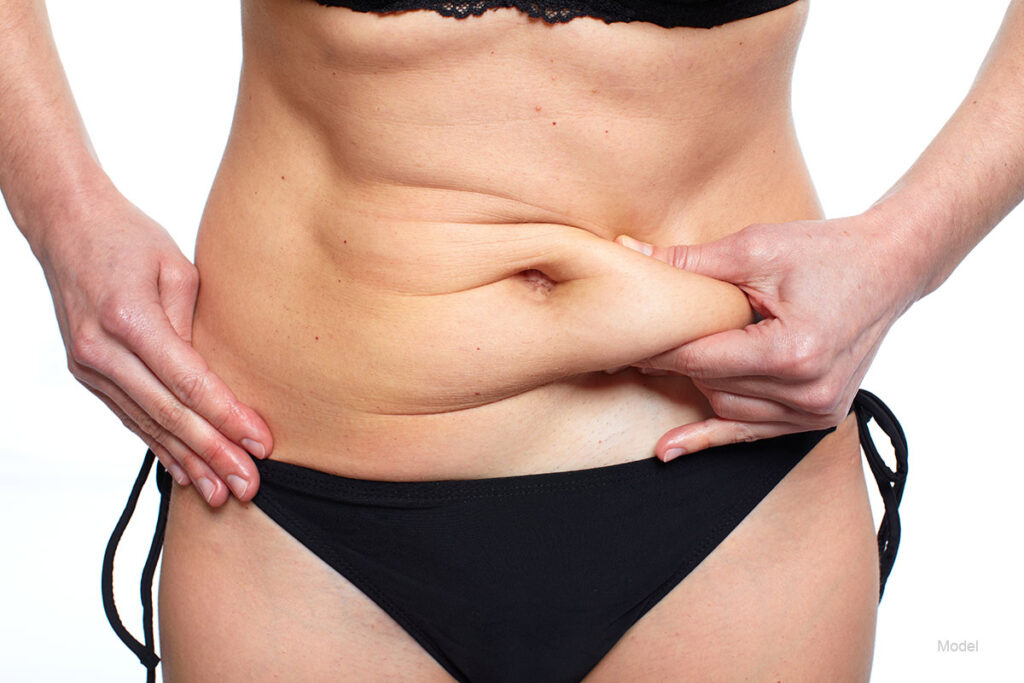 The good news is that cosmetic surgeries are available to help you shape the perfect figure. Liposuction and tummy tucks are among the most popular cosmetic procedures because of their ability to change how your body looks in a dramatic but natural fashion.
Tummy Tuck
A tummy tuck, or abdominoplasty, sculpts your waist and abdomen by removing excess skin and fat, repairing abdominal muscles, and removing love handle fat by liposuction.
In many cases, you may also have a belly protrusion or pooch that no amount of crunches can eliminate due to separated abdominal muscles, known as diastasis recti. This often makes you look pregnant when you are not.
The purpose of a tummy tuck is to contour your midsection by removing loose skin and fat and tightening separated abdominal muscles, leaving you with a stronger core and more confidence in how your stomach area looks.
Pros of a Tummy Tuck
It removes loose, sagging skin and fatty tissue.
It shapes and flattens your abdomen.
It corrects separated abdominal muscles.
It improves your posture and reduces back pain.
It removes stretch marks and scars on the abdomen.
It increases your confidence in and out of clothing.
Dr. Lo performs liposuction of your abdomen and love handles or flanks with your tummy tuck to give you the best shape and contour.
Cons of a Tummy Tuck
A full abdominoplasty with muscle repair requires about a two-week recovery.
You will have a scar that runs the length of your lower abdomen. It will fade and is mainly hidden in the bikini area.
Weight gain and pregnancy after a tummy tuck may negatively affect your surgery results.
Liposuction
According to the American Society of Plastic Surgeons, liposuction was the most requested cosmetic surgery in 2022, with over 325,000 procedures performed. Popular among both men and women, liposuction is the best way to address pockets of fat that don't respond to diet and exercise. Everyone knows you can't "spot reduce" parts of your body with diet or exercise—fat is lost where it's lost—and liposuction can remove the fat in these stubborn areas.
As technology has advanced, liposuction has also advanced, and today's procedures allow for extensive customization, shaping and contouring your body from your neck to your ankles.
Pros of Liposuction
It eliminates collections or pockets of fat that have not responded to dieting or exercise.
It shapes and contours your body, revealing toned muscles and a smoother figure.
It is highly customizable and can address excess fat nearly anywhere.
It requires minimal downtime for recovery.
It helps your clothes fit better and increases your confidence in your appearance.
Cons of Liposuction
It does not tighten loose or sagging skin.
You may not see your full results for a few months due to post-surgery swelling.
Weight gain may negatively affect your results.
Liposuction does not eliminate scars or stretch marks.
It is not a tool for weight loss; it is designed to sculpt your body contour.
Learn More About Body Contouring in Philadelphia
Whether you're interested in a tummy tuck, liposuction, or a combination of both, Dr. Adrian Lo can help. His extensive training and commitment to ongoing education on cutting-edge advancements in abdominoplasty and liposuction techniques ensures you will receive the best possible results from your body contouring surgery.
For more information or to schedule a consultation, call 215-829-6900 or fill out our online contact page.