4 Minute Read:
While most plastic surgery patients are female, men also desire aesthetic improvement, and cosmetic surgery offers them the opportunity to achieve the desired results. 
If you are a man looking to improve your look, but you don't know which cosmetic procedure(s) to have, this blog is for you.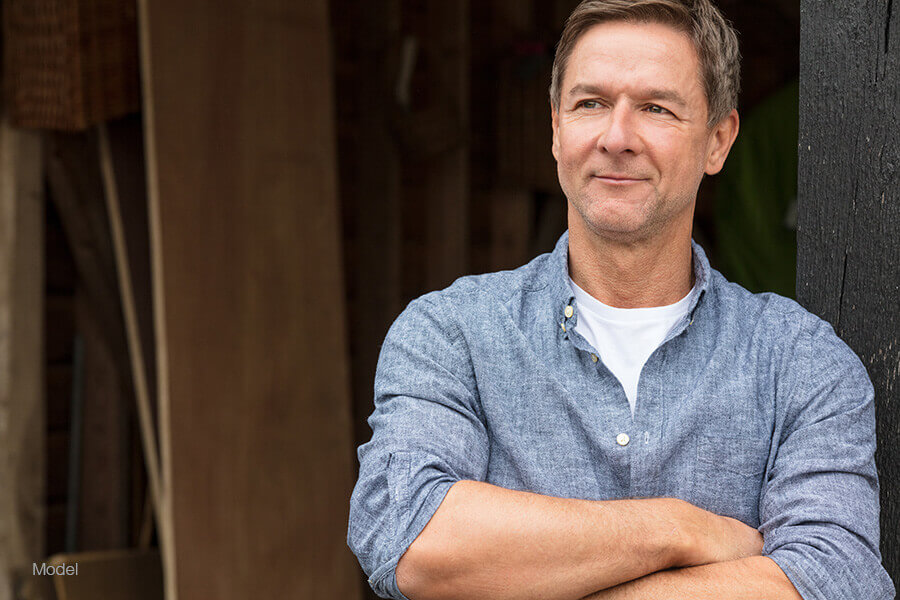 Below, we'll look at the six most popular and transformative surgeries.
1. Gynecomastia Surgery
It's reported that 50% to 65% of males suffer from gynecomastia or enlarged male breasts. This condition is caused by excess fat, breast tissue, or a combination of both.
Having "man boobs" can be one of the most embarrassing cosmetic conditions for males, and there is often no way to correct it with diet and/or exercise. Instead, gynecomastia correction surgery (male breast reduction) must be performed.
Once Dr. Lo determines the cause of your male breasts, he will create a surgical plan for you. If your male breasts are caused by excess fat, liposuction will be used to remove the unwanted subcutaneous fat from the area. If gynecomastia is caused by excess tissue, Dr. Lo will surgically remove the tissue.
And if your male breasts are caused by fat and tissue, then he will use a combination of liposuction and tissue excision to help you achieve a more masculine chest.
2. Eyelid Surgery
As men age, their skin begins to lose important proteins such as collagen and elastin, which can cause the skin to loosen and sag.
While this sagging skin can occur on various parts of the body, it is often most noticeable on the face, and the eyelids are one of the most common areas to show age-related skin laxity.
Whether it be sagging skin on the upper eyelids, causing droopy eyelids (which can even obstruct some men's vision), or bags under the eyes, cosmetic concerns can make you look older and more tired than you are. Fortunately, eyelid surgery (blepharoplasty) can help men achieve a more youthful appearance.
3. Neck Lift
Along with age-related skin laxity in the eyelids, many men develop loose skin in the lower face and neck including jowls, a double chin, and a "turkey neck".
This laxity can severely detract from a man's facial appearance, and since the face and neck are the most visible parts of the body, it can take a toll on a man's confidence and self-esteem. Neck lift surgery can help men achieve a more contoured and attractive neck and lower face by removing excess and sagging skin while tightening the remaining skin.
4. Rhinoplasty
The most common plastic surgery procedure every year for both men and woman is rhinoplasty or cosmetic nose surgery.
Whether to correct an injury (broken nose) or address an issue that has been present since birth, rhinoplasty surgery can create your desired nasal structure.
Rhinoplasty can address an issue with the size of the nose, the nasal bridge, or the nasal tip, allowing you to feel as handsome as you've always wanted.
Depending on the specific cosmetic concern, Dr. Lo may remove cartilage, add cartilage (through a cartilage graft), or reshape the nose to give you a natural and attractive appearance.
5. Liposuction
Many men struggle with unwanted fat, particularly around the waist or love handles.
Liposuction effectively removes excess fat by vacuuming it out of the body; once the fat is removed, it's gone permanently.
Liposuction is one of the most versatile and effective procedures available to men. This is because liposuction can be performed as a standalone procedure or as part of other procedures such as gynecomastia surgery or tummy tuck surgery. Additionally, liposuction can effectively remove fat from numerous areas of the body, including the abdomen, love handles, thighs, legs, arms, face, neck, and back.
Want to Learn More About Male Plastic Surgery in Philadelphia and New Jersey?
If you are interested in any of the procedures discussed above or have questions about other cosmetic procedures Dr. Lo offers, please call us at (215) 829-6900 or fill out our online form here.